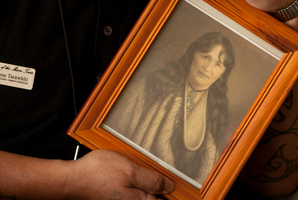 Descendants of a famous Rotorua guide who sheltered survivors of the Mt Tarawera eruption have written to a tourism boss asking that he stop claiming ancestry with her.
Former TVNZ reporter Hone Nuku Tarawhiti, who runs a tour company Footprints of the Maori in Rotorua, readily admits there is no actual blood relationship to Sophia Hinerangi, who was known as Te Paea and Guide Sophia.
Her story was featured as part of Maori Television's Behind the Brush series about Gottfried Lindauer's paintings. In that instance, as in a Weekend Herald story, he was identified as a "descendant".
Les Wasley says he is descended from Sophia through his mother, a great-granddaughter of Sophia. His lineage is from one of 14 children the guide had with her first husband, Koroneho Tehakiroe of Ngapuhi.
Mr Wasley said he was frustrated at Mr Tarawhiti's use of his ancestor's legacy.
A whanau trust had written to Mr Tarawhiti complaining about the descendancy claims.
Mr Wasley said the trust was considering its legal options.
Another descendant from the north, Nadene Pehi, said asking him politely to stop hadn't worked.
Mr Tarawhiti said it was "correct" to say he wasn't a direct descendant but he had always been open about his link, including in front of Taranaki, Ngapuhi and Te Arawa iwi at tribal functions honouring Guide Sophia.
"My choice of words that I use is descendant ... through the tuakana [older brother] of my koroua [grandfather] I feel I am justified in using that word."
He claims descendants have told him: "He whanaunga, he mokopuna, engari kare he toto. [You're a relation, a moko but not of the bloodline.]
"I've got the backing of all my family. I'm going to continue on. The letters they [the trust] sent, they have no significance to me."
Guide Sophia
* Born 1830/1834, died 1911.
* Ngati Ruanui.
* Principal guide at Lake Rotomahana's Pink and White Terraces.
* On the night of the 1886 Mt Tarawera eruption, Sophia sheltered 62 people in her whare at Te Wairoa.
* Married Koroneho Tehakiroe from the Hokianga about 1851. Had 14 children.
* Married Hori Taiawhio from Te Arawa about 1870. Had three children.
Source: Jenifer Curnow, Dictionary of New Zealand Biography. Te Ara - the Encyclopedia of New Zealand.