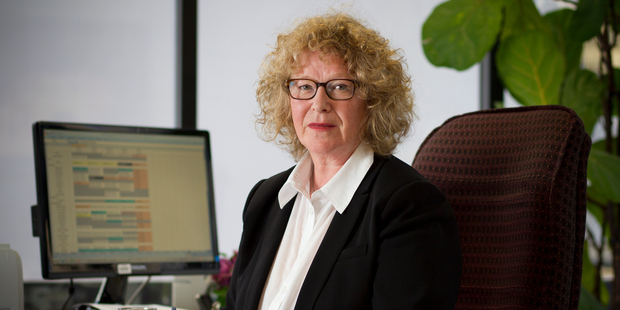 In front of Judge Anne Kiernan sit two piles of case files, in a clear file, full of notes, submissions and police summaries.
The defendants who will all appear before her that morning in court have a wide range of charges to answer. Indecent assault, drugs - from the ever-present methamphetamine to cannabis - burglary, assault and receiving stolen goods.
Many of the cases are at the lower end of the scale in terms of criminal offending but, as Judge Kiernan explains, they all need to be heard and for that to happen, she needs to prepare as much as she can.
But before she can even turn her attention to those cases there is a defended hearing (like a mini-trial without a jury) that has to be completed. It adjourned without all the evidence being heard and she spends the hour or so before court familiarising herself with what has been said, as well as making sure everyone will be ready to start at 9am.
Part of this preparation includes making sure a Samoan translator will be available.
Translators are as important in New Zealand courts these days as lawyers, in ensuring defendants understand the court process.
The day the Herald sat in on Judge Kiernan's court a speaker of Sudanese was needed as well as Tongan and Samoan translators.
And even at the start of the day a heap of other documents are waiting for her attention too. Among them are decisions she has compiled that have to be checked and released to the Crown and defence for hearings later in the week.
Apart from the case preparation there is the usual office administration to get under control before the day properly begins.
As the executive court judge she has extra responsibilities and speaks to colleagues in other courts. This morning she has been trying to organise what judges can attend the funeral of a former judge, while staff members duck in and out of the office.
They knock on the door and pause before coming in, but there is a sense of familiarity to their routine.
Judge Kiernan says she likes an open-door policy and "works quite closely" with court staff. Gone are the days when a judge sits in a room while others work around them.
"Today we're much more involved in the day-to-day running of the court ... You might find that's also a function of the volume of cases in this court as well."
She believes being a judge allows you to see a "slice of life".
"It is a great privilege and also a great responsibility to serve the community as a judge. Every day I have to make decisions which affect peoples lives [and] I take that responsibility very seriously."
When the defended hearing begins she listens to the defence lawyer's submissions. It's a drink-driving case and the defendant, a Tongan, says he didn't understand the instructions he'd been given by the police officer.
To help support her point the lawyer refers to previous cases and begins to elaborate until the judge stops her, because she is familiar with them. The evidence of the sole witness is finished quickly.
But Judge Kiernan reserves her decision, so there will be no guilty or not guilty verdict today. She needs to review the notes of evidence from the previous hearing before deciding.
That will need to wait though. The day's list court is about to begin so the 15 minutes or so in between is a chance to delve a little into the cases she is about to have to rule on.
One defendant is a prostitute with a long history of offending. "It's so depressing to read, 'and is a regular user of methamphetamine'," Judge Kiernan says as she casts her eyes over the woman's file.
The pile of documents in front of her is some of what will be handed to her by the lawyers in court. Usually the judge receives them and quickly reads them before reaching a decision, a process that can appear hurried from the public gallery.
Judge Kiernan says they are all read carefully but many are very similar and follow the same formula so after a while they get easier to read quickly. "And I also have the relevant acts, the Bail Act, and the [recently changed] Criminal Procedure Act with me."
She takes copies of the legislation to court with her date stamp, which she uses to officially mark all the documents she signs.
For those new to the legal world the way the list court operates closely resembles organised chaos - or sometimes not even that organised.
The reality is, like any major "office", a district court needs teamwork to get anything done.
That means lawyers need to be on time, prisoners need to be delivered to the court on time, court staff have to have files prepared and, in some cases, probation officers need to have their assessments completed.
And the defendants, if on bail, actually need to show up.
And so it begins.
The first case is via an audio-visual link (AVL) where a prisoner interacts with the court via a television screen in Auckland Prison, a relatively new initiative where prisoners don't have to be transported to court.
But the first defendant will have to wait for a while yet. A probation report to determine whether an address is suitable for bail isn't finished - and without it he cannot be considered for bail.
"We need the full picture," the judge tells him and stands the case down until the information arrives.
The next case is a young man who is admitting drink-driving. It's his first offence and he is fined and disqualified from driving for six months.
From there, a young man appears accused of indecent assault. His appearance is set down for a plea inquiry, but before that can happen Judge Kiernan and his lawyer agree he will need to be assessed by a nurse to see if he is fit enough to enter a plea.
After that more cases are called, including several from prison using AVL. Sometimes a lawyer is not present immediately - possibly because he or she is in another court - and she tries to keep the court moving, asking those in court if there is anything they could deal with in another case.
If that isn't an option she sees if any prisoners are waiting in the cells below. Later she tells the Herald the challenge and diversity a judge faces each day is the best aspect of the job - and can also be the biggest challenge. "I'm also conscious that in many ways the tap is never turned off, the work is always there to be done," she says. "Like most busy jobs, there is no down time."
The court adjourns for lunch and everyone disperses, but it's less about down time for Judge Kiernan as catch-up time. This afternoon there are not only more list cases to hear but the bail applications from the morning session, and a sentencing that has been delayed before.
She eats her lunch at her desk while casting an eye over her papers and the growing pile in the in-tray. More documents have arrived since she has been in court and they will all need to be seen to before she can go home for the day.
Back in court number 2 and a case that had been adjourned has returned - but not all the necessary information is there. "We're not quite there yet," she tells the defendant, who is transgender, and the case is stood down again.
At first the defendant bristles at being referred to as a man so Judge Kiernan is careful later when she is speaking to the court. The defendant is seeking bail, for a theft and minor assault charge, but a complicating factor is this individual has a history of not showing up for court and complying with community-based sentences. The case is stood down while the previous offences are checked. When the information is obtained it isn't good news - Judge Kiernan has determined the person will stay in custody, for now at least.
"Whatever, lady," was the response as the defendant is led away, arms crossed firmly.
That outburst, while fairly tame, isn't the only interaction between the defendants and the judge.
On several occasions while a duty lawyer is on his or her feet reading quickly through a file, the judge asks a question of the defendant directly; later when there is confusion whether a bail address is suitable she listens to the defendant state his case - although he is clearly skating on thin ice - so when the case is deferred to later in the week he looks cross but appears to believe he at least got a fair hearing.
Eventually the man appearing via AVL is back. This time he has had more luck. The address he wants to be bailed to has been approved. But it is now late in the day so he's unlikely to get released from prison until the morning.
Finally the sentencing the judge spent much of her lunch break preparing for. The prisoner has admitted violence charges and has a history of similar offending with the same victim so he knows a custodial sentence is a strong possibility.
But again there is confusion between his defence lawyer and probation about the exact conditions imposed on his last sentence. It's close to 5pm so it's impossible to get the necessary information. And that means there will be no sentence today.
This frustrates Judge Kiernan just as much as it would the defendant. Outside court, she says if the necessary paperwork is available then there is no reason not to proceed.
The day has been a long one. It's well past 5pm and the list court is now finished, but her day is not quite over. There's still that in-tray to deal with and space to be made on her desk for the next lot of files in the morning.
The series
Monday: Law changes herald new age of transparency
Tuesday: The truth about bail and the impact of the changes
Yesterday: Sentencing with a purpose
Today: A day in the life of a judge
Friday: The push for tougher sentences
Saturday: What next for the justice system.