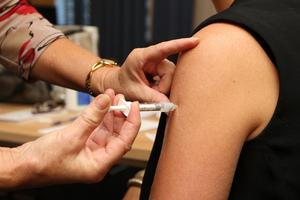 While the vast majority of New Zealanders are immunised, nearly 20 per cent of parents don't immunise their children on time, according to a new report.
The 2013 Immunisation Health Report found 96 per cent of parents surveyed had their children vaccinated, while 87 per cent had their children fully vaccinated.
It found 17 per cent of parents had not immunised their children on time, with some waiting months beyond the recommended due date to get their child's immunisations up to date.
The report, launched by the Minister of Health Tony Ryall at a parliamentary reception today (Wed), found that while New Zealand's immunisation rates were on track to achieve the Government's targets, there was still more work to be done to ensure individuals and the broader community were protected against deadly infectious diseases.
Paul Gilberd from the Meningitis Foundation said immunising children against serious infectious disease such as meningococcal and pneumococcal meningitis was the best possible protection that could be provided for them, their families and the community.
"Unfortunately the Meningitis Foundation has seen first-hand the impact of not vaccinating children against potentially deadly diseases.
"Meningitis can develop at frightening speed, leaving victims and parents very little time to seek medical attention. Indeed this often comes too late," Mr Gilberd said.
The report, which was commissioned by Meningitis New Zealand and pharmaceutical company Pfizer, surveyed 1500 adults.
Pfizer New Zealand's country manager Frances Benge said the report confirmed that more could be done to ensure compliance with age [schedule] vaccinations, lifting immunisation rates in rural areas, and in ensuring parents had access to information about all available vaccines, not just those given via the routine National Immunisation Schedule.
Practising general practitioner at Normans Road Surgery in Christchurch, Dr Api Talemaitoga, suggested there might be a perception among some parents that their children will benefit from others in the community being immunised, but it was not acceptable to let others do the heavy lifting.
"The view of parents that it is alright for their children not to be immunised because other children are, is simply dangerous," he said.
"It is very important to stick to and complete the immunisation schedule.
"Not immunising your child obviously increases the risk of them getting an avoidable infection, and missing a scheduled immunisation also reduces the level of protection that the immunisation can provide."
********************
Key findings of the 2013 Immunisation Health Report:
* 96 per cent of parents surveyed vaccinated their children;
* 98 per cent of parents who think vaccines are safe, vaccinate their children;
* of those parents who fully vaccinated their children, 19 per cent did not adhere, or were unsure they adhered to the age schedule and this rises to 50 per cent among parents who only partially vaccinate;
* 89 per cent of survey respondents feel well or very well informed about the vaccines available under the National Immunisation Schedule; and
* 86 per cent of adults want healthcare professionals to inform them of vaccines that provide extra coverage against diseases, even if not funded through the National Immunisation Schedule.
- APNZ