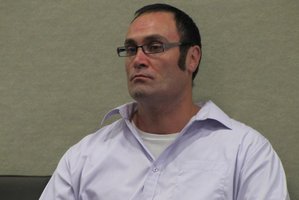 A Queenstown bouncer says he never intended to sell CCTV footage of England rugby captain Mike Tindall which he took from the bar he worked at.
Giving evidence this morning in his own defence in Invercargill District Court, Jonathan Dixon said he was initially asked by another security guard to seek out the footage of Tindall after a ``situation'' at the door of the bar where Dixon worked as security.
Dixon is on trial charged with accessing a computer and obtaining property without right after he posted online footage of Tindall with a woman who was not his wife, Zara Phillips, in the Altitude Bar in Queenstown during the Rugby World Cup in 2011.
Dixon does not deny accessing the computer, but says he honestly believed he had the right to do so.
He told his lawyer John Westgate that during his seven years working security at the bar his understanding was always that anyone working there could access and do what they wanted with CCTV footage.
He said after he asked a receptionist to download the footage, people around town started telling him they had heard Tindall was up to no good in the bar that night, and that if anyone had footage it could be worth money.
He then researched what such footage would be worth, but was not going to sell it, he said. His evidence continues this afternoon.