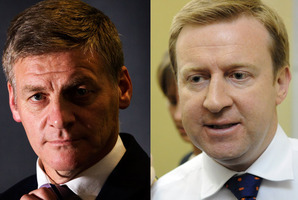 Some MPs who have voted against the same-sex marriage bill have not changed their minds on the matter leading up the bill's final reading tonight despite a concerted last-ditch effort to lobby MPs from both sides of the debate.
MPs have by consensus agreed that the debate will begin at 7.30 pm after the dinner break and that the House will continue sitting until the debate and vote is finished tonight. Voting is expected to start about 9.40 pm.
National's Bill English has opposed the bill throughout and said this afternoon that he would continue to do so tonight.
"I'm voting against it because I think the current arrangements are working satisfactorily. I don't think it's the benchmark for equality."
He said in some ways the bill was 'harmless.'
"But it does seem off that an institution that is becoming much less used and less popular has now become the benchmark for equal treatment."
He said not many people had taken advantage of civil unions and he expected even fewer people to take up the chance to get married. "People just don't get married these days, at anything like the rate they used to. In some ways I'm pleased - it is an institution that is useful to the community and in some ways it's good that it is getting a bit of profile from a whole lot of young people who probably never thought about getting married before."
National's Jonathan Coleman said he also intends to oppose the bill. He supported it at first reading but changed his vote after that to oppose it. He said he had believed it was important for the bill to go to select committee "but in the end I wasn't convinced there was a need for this bill."
"I don't think it is an equality issue. I know proponents of the bill have framed it as such but I don't believe it is. I also don't believe there has been enough about the rights of children in this debate at all."
He said if the issue was gay adoption, then that was the bill people should be debating - not one of gay marriage.
"My personal view is that in an ideal world each child would have a loving mother and father. That hasn't really been highlighted in the bill." He said he was not arguing that same-sex parents would be any less loving, simply that the issue had not been discussed enough.
Jonathan Young said marriage had always been a heterosexual institution. He had lots of correspondence from both sides and he was open to listening to the issues, but it had not changed his mind.