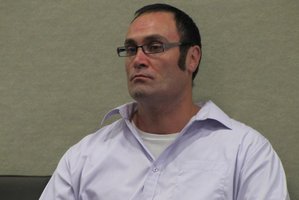 A series of witnesses has given evidence at the trial of former Queenstown bouncer Jonathan Dixon about an apparent lack of written policies or training about access to CCTV footage at the bar where they all worked.
On the second day of Dixon's jury trial at the Invercargill District Court, the jury was yesterday shown copies of three pieces of 2011 footage of former England rugby captain Mike Tindall, the husband of the Queens' granddaughter Zara Phillips, with a former girlfriend in the Altitude/Base bar in Queenstown.
Dixon, 42, secured the footage, which caused an international furore, from CCTV of the bar where he was head doorman for a contracted security company on the night Tindall and other members of the England rugby team visited the bar during the Rugby World Cup.
After posting the footage on the internet, Dixon was charged with accessing a computer system and thereby dishonestly obtaining property.
Dixon has pleaded not guilty, and the jury heard on Monday that he accepted he accessed the computer system, but honestly believed he had the right to do so.
As part of the Crown's case, the jury was shown yesterday three videos: a self-shot video of Dixon talking to a camera on his way to his first court appearance on the charge; a video Dixon made containing the CCTV footage and messages from him to Tindall, which Dixon posted on YouTube four days after Tindall was at the bar; and a video of his brief interview with police after the complaint was laid, during which he answered most questions with "no comment".
A former receptionist at Base Backpackers, Helen Aslett, which is part of the same business as the Altitude bar, gave evidence via video link from Cambridge in the United Kingdom, that Dixon asked her to download the footage the day after Tindall was in the bar.
She told Crown solicitor Mary-Jane Thomas that Dixon asked her to find the footage and save it on the reception computer. Dixon later came in and placed the footage on a memory stick, after which it was gone from the computer. Dixon has given her a picture to recognise Tindall because she did not know who he was.
She said she did not question the request as Dixon was head of security at the bar.
She had not personally downloaded CCTV footage for security staff before, but knew of at least one other time other staff had, following a security incident.
Miss Aslett, as had three earlier witnesses who were bar staff members and appeared briefly on Monday, told Dixon's lawyer John Westgate she could not recall any formal training about who had access to the computers and what could be accessed.
She agreed she had thought Dixon was allowed to download footage from the reception area if he wanted to.
"He was head of the security team we used. He was trusted."
Police electronic crime analyst Kerry Baker told the court he analysed several laptops and other items seized from Dixon's house. This showed he had searched multiple times, between September 13 and 20, various UK tabloid newspapers and sites like moneyforyourstory.com and sellyourstorynow.co.uk. He also found copies of the footage and videos Dixon made and evidence Dixon uploaded the YouTube video on September 16.
In that video Dixon was seen telling Tindall his behaviour "was that of someone unbecoming especially to someone such as the Queen or Zara Phillips. I do feel for them", that Tindall had behaved "in a manner unbecoming of someone which is an ambassador from your country", that he did not agree with that type of behaviour or conduct, but was not going to let anyone make any money off it by putting it in the tabloids, but that Tindall should remember him because "I'm a bouncer, one of the many".
Earlier, Crown evidence was that Dixon had attempted to sell the footage to The Sun newspaper, but had been unsuccessful, after which he posted it on the internet.
Judge Kevin Phillips adjourned the trial at midday after brief evidence from police officers involved in the case, because the Crown's last witness, a former bar staff member, had not appeared for a video link from Bristol. It was hoped the man would be available this morning, before the defence begins its case. Dixon will give evidence as part of the defence case.