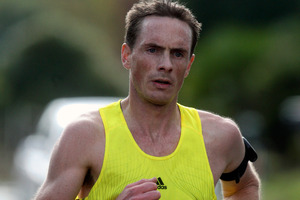 Cramp may have saved a Christchurch runner and his wife from being right in middle of yesterday's bombing attack in Boston.
Well-known former Papanui Toc H club runner, Glynn Hadley, 34, finished the Boston Marathon with cramp, causing him to leave the finish line area immediately.
He was back in his hotel room treating his injury with wife Stephanie Borrie, when the two bombs went off near the finish line.
His mother-in-law Patricia Borrie said if he hadn't gone back to the hotel he and Stephanie would have almost certainly been at the finish line watching other runners come in.
The bombs killed at least three people, including an eight-year-old child and injured more than 140. The injuries ranged from cuts and bruises to amputations. Many victims suffered lower leg injuries and shrapnel wounds. Some suffered ruptured eardrums.
A ministry of Foreign Affairs and Trade spokeswoman said 45 New Zealand citizens were registered as participants and only one was treated for minor injuries.
The twin blasts took place almost simultaneously, knocking spectators down, shattering windows and sending dense smoke over the street.
Mrs Borrie said she simply didn't want to think what might have happened if Mr Hadley didn't get cramp.
Mrs Borrie said Mr Hadley, an engineer now living in Scottsdale, Arizona, had completed the marathon in two hours 48 minutes.
"Glynn being a fast runner was well and truly past the finish line, thank god," she said.
"He had a bad race, because he had cramp, but being the stoic sort of person he is, he finished," said Mrs Borrie.
Mrs Borrie was watching the race on TV when she received a text from her daughter saying they were going back to their hotel.
Later when Mrs Borrie heard on the radio that bombs had gone off, her "heart sank".
She rang her daughter immediately to see if they were okay.
Stephanie, a postdoctoral researcher at the Arizona State University, was unaware of the bombing.
"But Stephanie just said, 'What bomb?' They had no idea it had happened," she said.
"She was saying it was so crazy, they had only just left," said Mrs Borrie.
On the Papanui Toc H Facebook page, they said: "Message from Glenn [sic] - Marathon was a hard day in office! Bad legs cramps in the last 10km, I survived and I am happy that I finished. Well away from all the drama that is going on at the finish line."
More than 23,000 runners took part in the race, which can attract more than 500,000 spectators.
One New Zealander was treated for a cut chin in the wake of the Boston Marathon bombings, MFAT confirmed.
In a statement today, the ministry said the New Zealand embassy in Washington, supported by the New Zealand honorary consul in Boston, were continuing to monitor the situation closely following yesterday's bombing.
Neither Athletics New Zealand nor the ministry had received reports of any New Zealanders - athletes or spectators - receiving major injuries as a result of the explosions yesterday but one was treated at hospital for lacerations to her chin.
It was not clear whether the woman was caught up in the blasts directly.
The honorary consul, accompanied by a locally based New Zealand doctor was visiting all hospitals handling victims of the blasts but there did not appear to be any New Zealanders amongst the casualties.
New Zealanders who had concerns about family or friends in Boston should attempt to make contact with them directly in the first instance.
If they require further assistance they should call the Ministry of Foreign Affairs and Trade's consular division on 04 439 8000 and ask to speak to a consular adviser.
Further information is also available on www.safetravel.govt.nz.
- STAR CANTERBURY with APNZ