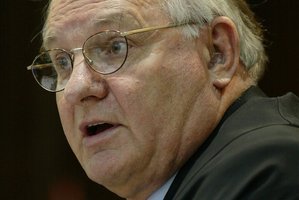 Prison has its place, but there are questions over how well it works, says Sir Grant Hammond, judge and president of the Law Commission.
"They're going to come out," he says of those sent to prison.
Sir Grant left the bench for the Law Commission, which advises the Government on law reform.
He said a way had to be found stop the flow of young Maori men into a prison system in which they occupy more than half the cells.
"Efficacy is doubtful. You've got these huge costs, prisons are bursting at the seams. That in turn deflects badly needed resources from health and education ... The future surely has to lie in really trying to reinforce community options and restricting incarceration to those cases that really need it. There are a small percentage of cases where people are utterly dangerous. There are people in D Block in Pare [Paremoremo maximum security prison] who will never get out."
This is reflected in sentencing practices set by Parliament.
Sir Grant said: "Our sentencing law is quite clear there should not be - Parliament has said this - a custodial sentence unless a community-based sentence is not adequate to protect the public.
"It is not always easy for the public to get their minds around that."
The laws, said Sir Grant, are increasingly hard to grasp and more so as new governments "tinker" until "it is very hard for the man or woman in the street to know what the law is". "We should not in a country of 4.5 million [people] have such complicated, difficult-to-assimilate laws."
Balanced against this is understanding the community's need for justice - and a better understanding of what lies behind a judge's decision.
Sentencing had attracted expectations built on a misunderstanding, he said. Take a traffic accident in which someone is killed, resulting in a "careless driving causing death" charge and a two-year sentence.
Media coverage might highlight a grieving family, saying "this person's life is only worth two years".
"It is not for the courts to attempt to construct an equation between the value of a human life and a period in custody."
He said more work needed to be done to convince the public a sentence served in the community involved "serious and exacting work" and was a punishment rather than "a soft option".