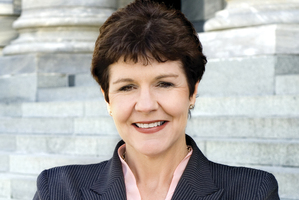 Labour and the unions have cried foul over the appointment of MP Jackie Blue as the new Equal Employment Opportunities Commissioner, claiming while she is respected for her advocacy on women's health National had started a dangerous trend of appointing political "cronies" into human rights watchdog posts.
Justice Minister Judith Collins announced the appointment yesterday and Dr Blue will stand down from Parliament to take up the role in June. She will replace Dr Judy McGregor on the Human Rights Commission after Dr McGregor left the role last year to work at AUT.
It is Ms Collins' second controversial appointment to the Human Rights Commission in recent weeks - the appointment of Dame Susan Devoy as Race Relations Commissioner has also come in for criticism.
Labour's Sue Moroney said Ms Collins was turning the Human Rights Commission into "a recruitment agency for [National] supporters".
"The EEO Commissioner should be an independent advocate able to give full attention to the demands of the role, not someone who is juggling relationships with former political colleagues."
Council of Trade Unions President Helen Kelly also questioned the appointment, saying the commission's roles should be independent of Government policy and Dr Blue's appointment directly from Parliament was a concern.
Ms Collins said Dr Blue was the top choice of the panel which interviewed her and three others. She said it was not unusual for people with political backgrounds to take on such jobs. "Not many people would want to put their names forward. It's a bit like the Race Relations Commissioner - whatever you do, someone will criticise."
Former MP Paul Quinn is next on National's list but has previously indicated he did not wish to return. National Party President Peter Goodfellow said if Mr Quinn did not wish to take the post, he understood the next in line - Paul Foster-Bell - was interested. Mr Foster-Bell, a diplomat, was a National Party candidate in 2011 and is Deputy Head of Mission at the NZ Embassy in Riyadh.
Dr Blue said she had applied for the job off her own bat and gone through a panel interview. She was "delighted" to have been chosen and had a track record in advocating for women. Dr Blue entered Parliament in 2005 as an Auckland-based List MP. She was known for her breast cancer advocacy.