Radio and TV-based programmes helping motivate Pacific women to undergo health checks.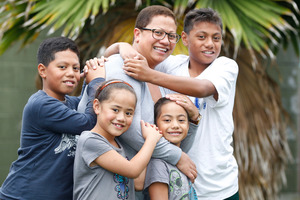 Increased awareness and changing attitudes have led to a growing number of Pacific women taking part in breast screening.
Figures, released by Breast Screen Aotearoa, show more women are getting screened.
A total of 71.7 per cent of women were checked last year, the latest results show, compared with 68.4 per cent in 2011.
The biggest jump was seen in Pacific women, 64.7 per cent of whom took part in the programme in 2011.
Last year, 71.5 per cent of Pacific women were checked. The percentages are of women in the target age range, 45 to 69.
Traditionally, Pacific and Maori women have had the lowest breast screening rates, with Pasifika women more likely to get breast cancer than European women.
Independent service provider Health Star Pacific, based in Auckland, runs several promotional programmes to help encourage Pacific women to get regular health checks.
General manager Togia'i Vaifagaloa Naseri said greater awareness and an attitude change had helped to attract more women.
"We've really worked hard these last few years to help our Pasifika women. We've got regular radio programmes set up in Samoan, Tongan, Cook Islands and Niuean, where they call in and discuss ... health issues."
The programmes include the National Cervical Screening Programme launched in 2007, which featured humorous television ads calling on Pacific women to have smear tests done.
Ms Naseri said such campaigns and continued conversation about health issues made it easier for members of the Pacific community to deal with issues traditionally not talked about in public.
"For most Pacific Islanders, things like these are just not things we talk about openly. But over the years we have spoken to community groups and churches and everybody - even the men - gets involved. They know it affects the whole family."
The organisation works with various health providers to help address health issues Pacific people face.
Breast Screen Aotearoa clinical leader Dr Marli Gregory said the results were pleasing, but still more needed to be done to get all women tested.
"Breast cancer is the leading cause of non-smoking-related cancer deaths in New Zealand women. We know that early detection through mammograms is key and increases the chance of surviving breast cancer," she said.
"While these are positive results, we'd encourage more women aged 45 to 69 to talk to their GP or register for breast screening."
Family moved by mum's experience
Mireta Iese-Sinclair is a woman with a purpose.
After watching her mother go through a year-long battle with breast cancer, she has taken it upon herself to put out the message to all women - get screened.
The 34-year-old mother of four, of Avondale, said she had never thought about breast screening until the day her mother was told she had a cancerous lump in one of her breasts.
"It changed me. All of us. We all saw Mum go through the changes last year.
"I went with her when she got chemo and saw when she lost her hair ... it was hard for us to watch that," she said. "But she was saved. She had gone to her regular breast screening appointment, where they found something and that saved my mum. If she hadn't gone in for that test, I don't know where she would be right now."
Mrs Iese-Sinclair, whose mother is now cancer-free, said the experience had led to a movement within their family - particularly the women.
"I have three sisters and we've all talked about it.
"The aunties, cousins ... it's taught us that we've got to go for regular tests - not just breast screening, but cervical as well.
"We've encouraged all the women in our family to go for their regular tests."
Mrs Iese-Sinclair, of Samoan descent, said speaking openly about breast screening was a must in order to save lives.
"It's very typical for us islanders to feel embarrassed to talk about these things. But it's important. It's something that can affect everyone in the family - it did with us - and Dad was right there with my mum, supporting her. When it came to our mum, being embarrassed was not going to get us anywhere if we wanted save her. And now she's here, laughing and living life to the full and we're just so grateful."
2012:
71.5 per cent Pacific
63.9 per cent Maori
72.5 per cent Other
71.7 per cent Total
2011:
64.7 per cent of Pacific women took part
59.1 per cent Maori
69.6 per cent Other
68.4 per cent of Kiwi women took part
Source: Breast Screening Aotearoa