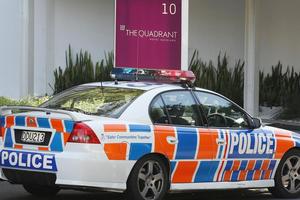 A man sentenced to life imprisonment for stabbing his flatmate to death after he discovered he was having an affair with his estranged wife has had his appeal against his sentence dismissed
The Supreme Court declined Mohammad Hamid-Zadeh's attempt to appeal against his life term for murder, finding "no appearance of a miscarriage of justice and no point of general or public importance as would warrant a second appeal''.
However, an appeal by the Solicitor-General against his minimum period of parole was successful, resulting in it being increased from 12-and-a-half years to 15-and-a-half years.
Hamid-Zadeh pleaded guilty to the murder in 2011.
He and his wife were refugees from Iran who arrived in New Zealand in 2009, but his wife adjusted to her new life better than Hamid-Zadeh and the pair separated, said the court finding.
A year later, Hamid-Zadeh became suspicious of his estranged wife and his flatmate, Farasad Razani, and placed a recording device in the apartment while he went to work at a kebab shop on Karangahape Rd.
He heard the pair having sex, the summary said.
After discovering the affair, Hamid-Zadeh stabbed Mr Razani while he was asleep using two knives, inflicting 17 stab wounds and 42 other wounds.
The police believe Hamid-Zadeh attacked Mr Razani sometime after 5am but an ambulance was not called until after 7am.
When police arrived they found 30-year-old Mr Razani stabbed to death in the bedroom and Hamid-Zadeh sitting in the lounge, nursing an injury to his hand. Police also found two knives, one of which had a 28cm-long blade.
Hamid-Zadeh's lawyer Belinda Sellars argued that provocation should be taken into account at sentencing in 2011.
The partial defence of provocation has been repealed by Parliament but judges can still take it into account at sentencing.
Ms Sellars said her client lost self-control when he discovered the woman had been sleeping with Mr Razani.
Ms Sellars said there was no planning or premeditation involved in the murder, he had shown remorse and had pleaded guilty at an early stage.
Crown prosecutor Aaron Perkins said the case did not warrant the judge considering provocation.
"The prisoner may feel aggrieved but the level of infidelity could hardly be seen as a unique occurrence.''
He said it was a brutal attack which left Mr Razani 42 cuts to his body and 17 stab wounds, two of which went through his chest and lungs before hitting his spine.
"One does not need to be a physician to know that they almost passed right through the body.''
In her sentencing, High Court judge Justice Patricia Courtney took two years off the sentence for the provocation aspects and a further two and-a-half for Hamid-Zadeh's remorse, previous good character and the fact that prison in New Zealand would be hard for him as he spoke little English and had no family here.
- APNZ