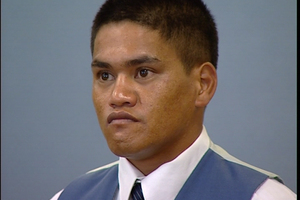 Teina Pora, the man convicted of the 1992 murder of Susan Burdett, has been denied parole.
Pora was sentenced to life imprisonment in 1994 for Ms Burdett's murder, rape and aggravated burglary.

In its decision, released today, the Parole Board denied Pora's release because in January a lighter, screwdriver and "an objectionable item'' were found in his cell.

The board said Pora had "done well'' since his last hearing a year ago and he had been home four times for four 12-hour periods without incident.

The board noted that Pora had the support of others, including members of the media who appeared to believe he was innocent.

This was not a matter which the board could give any weight.

"Whilst considerable progress has been made by Mr Pora, he lost some of the gains that he made through events that occurred in January,'' the decision said.

"The recent misconduct is troubling, in that it displayed an inability to adhere to rules required of prisoners.''

The board also did not have confidence that Pora had an adequate release plan in place to mitigate against his risk.

He would be able to apply for parole again in six months rather than the normal 12 months while his progress was assessed.
Ms Burdett was brutally raped and murdered in her Papatoetoe home in 1992 after an evening out 10-pin bowling.
The 39-year-old accounts clerk, who lived alone, was bashed repeatedly on the head with a softball bat that she kept in her bedroom for protection.
A colleague found her naked body on her bed after she failed to turn up for work the next day.
The case horrified the public and baffled police, who had no firm leads for almost a year.
Eventually, Pora, a 17-year-old gang associate, was arrested and convicted of the crime in 1994 after making inconsistent confessions.
But in 1996, DNA testing showed the semen inside Mrs Burdett belonged to serial rapist Malcolm Rewa, who was unknown at the time of Pora's trial but was convicted in 1998 of sexually assaulting 24 women.
Rewa was tried twice for Mrs Burdett's rape and murder.
The jury at his first trial, which covered multiple sex attacks during the 1980s and 1990s, could not reach a verdict on the Burdett charges.
A second jury convicted Rewa of rape but could not decide on the murder charge.
Pora was convicted again in 2000 after a retrial was ordered.
- APNZ