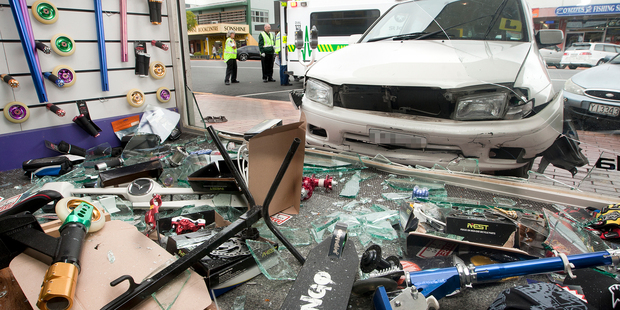 Stories making headlines across New Zealand at noon include a car crashes through a shop window and two women are vilified on Facebook after posting evidence showing the removal of memorial crosses.
A car smashed through the window of a retail store in Eruera St yesterday.
Two women who took 15 white crosses from a war memorial site in Waipawa were "vilified" on Facebook after posting photos and a video of themselves in the act of stealing them.
Kaitaia District Court has been told of the extraordinary lengths a Kaitaia man went to to avoid detection of his dealing in methamphetamine, and how he finally came unstuck.
Nudists kept a low profile at Papamoa Beach this summer - to the relief of nearby residents.
A local farmer helped keep a digger operator alive while he lay critically injured and trapped in his excavator for more than an hour, after it rolled 10-15m down a bank.
Twelve-year-old Fletcher Oxford has achieved things most others his age can only dream of.
The $7.5 million spent on improving State Highway 10 through Bulls Gorge would have been better used to flood-proof Far North roads which regularly disappear under water, Mayor Wayne Brown says.
For the last six years, locals and tourists alike have been truly amazed when they step back in time at Retro Funk.
Drivers and pedestrians need to take more caution when approaching the North End pedestrian crossing in Oamaru.
Plans to refurbish Kaitaia's historic WWI memorial are attracting strong support from the community
More stories making headlines today:
Most Bay MPs against gay marriage (+poll)
Speed limit change mooted
Unhappy parents may impose own justice
Visiting pair held on theft, assault charges
Woman charged over death of young boy