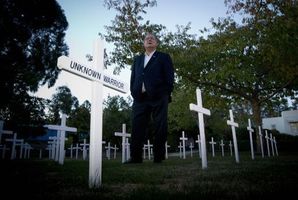 Two women who took 15 white crosses from a war memorial site in Waipawa were "vilified" on Facebook after posting photos and a video of themselves in the act of stealing them.
The field of remembrance was set up in memory of soldiers who had fought and fallen in both world wars, during a moving ceremony two weeks ago.
For returned war veterans and many others in the small Central Hawke's Bay township it was a place of significant meaning and historical importance.
Information which identified the offenders had come from outraged members of the public.
The pair's actions were ripped to shreds on the social networking site and by Monday morning the crosses had been returned, Detective John Brans of the Waipukurau CIB said.
"We made some inquiries and realised there had been Facebook posts in relation to this. They were vilified by people from the community who were absolutely disgusted by what they had seen.
"There was a huge backlash to that by all accounts. They have admitted to everything."
Both women, believed to be in their early 20s, had been drinking when they sneaked on to the site and removed 15 of the crosses some time on Saturday night.
"They realised the error of their ways and they will be meeting with [members of the] RSA to get some form of resolution. We want to put them in touch and get them to work something out."
Due to their co-operation and the fact they had returned the stolen property, no charges would be laid. However, police were still trying to track down 10 crosses that remain unaccounted for.
Waipawa and Districts RSA president and councillor Maitland Manning was happy with the outcome and hoped the final missing items would be returned. He looked forward to an apology from the women.
"As I understand, they were judged by people on Facebook and realised they were in trouble," he said.
Anyone with information about the remaining missing crosses can contact Waipukurau police on (06) 858 9140.
For more articles from this region, go to Hawkes Bay Today