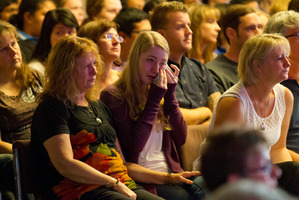 Every seat was taken yesterday at a special assembly at Elim Christian College to mark the five-year anniversary of the Mangatepopo Gorge tragedy.
The audience's respectful silence during speeches and prayers - some delivered by family members of those who died - was matched by laughter and song as the Howick school's community remembered.
"We lost some very special people ... I can't believe it's five years since the enormity of having to read that out for the first time," principal Murray Burton told those gathered, after reading the names of the seven who died.
"My hope today is that, as has been proved through the last five years, we will smile, we will remember."
On April 15, 2008, a group from Elim on a school trip to the Sir Edmund Hillary Outdoor Pursuits Centre in National Park found themselves trapped in a rocky canyon during a flash flood in the Mangatepopo Gorge.
Six of the students, all 16, and teacher Tony McClean, 29, died after being swept away and over a dam.
A video recounted the days after the tragedy, showing news coverage and broadcaster John Campbell doing a live cross outside the flower-laden gates of the school.
Media attending the assembly had brought memories flooding back for some teachers, Mr Burton said.
Elim has doubled in size since the tragedy, and split into a junior and senior campus.
But, Mr Burton said, the tragedy was in the school's DNA. He had asked the junior school if some of them wanted to attend the anniversary, and the whole school had come up the road in buses.
Ben Bray was in the band which performed songs. Later, he was asked by Mr Burton on stage about how he coped with losing his older sister, Natasha.
"Imagine if you have an older sibling, and they go away for a camp, and you never see them again. It's overwhelming."
Ben, in his last year at Elim, told the assembly they should make the most of the people around them.
John McClean, speaking after his daughter Hannah, 20, performed a song for the assembly, said that after losing his eldest son he tried to hang on to everything about him.
"His surfboards, his theology books, his guitar."
Remembering victims
Teacher Tony McClean and six students from Elim Christian College in Auckland:
Natasha Bray, 16
Portia McPhail, 16
Huan (Tom) Hsu, 16
Anthony Mulder, 16
Floyd Fernandes, 16
Tara Gregory, 16.