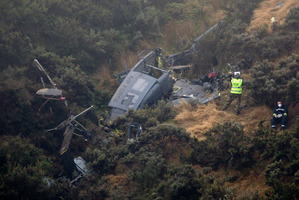 A military tribunal has heard from more than a dozen pilots that the actions of a lead pilot on the morning of a fatal air crash were reasonable and they would have acted in the same way.
Evidence was also given about the culture of rule-breaking and risk-taking in Royal New Zealand Air Force 3 Squadron, which the accused pilot, Flight Lieutenant Dan Pezaro, belongs to.
Three crewmen died and one was seriously injured when their Iroquois helicopter crashed into a Kapiti Coast hillside during bad weather on Anzac Day 2010.
It was part of a three-helicopter formation led by Flight Lieutenant Pezaro, who is accused of flying beneath low cloud under the Air Force minimum height.
Flight Lieutenant Pezaro, who faces a single charge of failing to abort the flight because of worsening weather, today began his defence in the hearing at Ohakea air base.
Four pilots with similar flying experience said they had seen minimum height levels infringed by 3 Squadron executives and senior officers with no repercussions.
Squadron Leader Anna Shaw, Squadron Leader Adam Huston, Flight Lieutenant Mike Adair and Flight Lieutenant Greg Jane said their training reinforced the idea that Standard Operating Procedures (SOPs) were guidelines and minimum flying levels were open for interpretation, depending on weather conditions.
Squadron Leader Huston said he experienced "first hand'' a senior officer flying in worse conditions.
All said Flight Lieutenant Pezaro had not behaved negligently and that other pilots, including themselves, would act the same in similar conditions.
Statements from nine other pilots supporting Flight Lieutenant Pezaro were read to the tribunal. All supported his actions and said the squadron had a history of rule-breaking and risk-taking to get the job done.
Flight Lieutenant Kane Sanson said the unit was praised in places like East Timor for cutting through red tape to complete missions.
Safety expert Squadron Leader Jim Rankin, who worked at 3 Squadron before the crash, said the state of orders and SOPs were a "shambles'' when he arrived.
On three occasions he had been part of briefings where senior officers had condoned flexibility around SOPs.
"The effect was contradictory and confusing,'' he said.
The crash happened as the helicopters were travelling from Ohakea to Wellington to fly over an Anzac Day commemoration.
Flight Lieutenant Pezaro was originally charged with negligently failing to abort the mission.
Tomorrow the defence will call two more witnesses before the disciplinary officer decides on a verdict.
If found guilty, Flight Lieutenant Pezaro faces a maximum penalty of two years in a military jail.
- APNZ