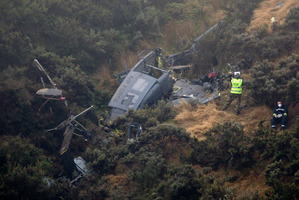 A military tribunal has been told an Air Force helicopter squadron treated standard orders like guidelines that gave good "generic guidance" rather than absolute orders to obey before a fatal crash three years ago.
Three crewmen died when their helicopter crashed into a Kapiti Coast hillside during bad weather on Anzac Day 2010.
The lead pilot of the three-helicopter formation, Flight Lieutenant Dan Pezaro, began his defence today on a charge of negligence.
Last week a military tribunal at the Air Force base at Ohakea ruled that Flight Lieutenant Pezaro had a case to answer on an amended charge of failing to abort the transit flight to Wellington on April 25, 2010 because of increasingly poor weather on the Kapiti Coast.
He was originally charged with negligently failing to abort the mission to a flyover of an Anzac Day parade in Wellington as the weather worsened.
The crash happened near Pukerua Bay as the three helicopters made their way from Ohakea air base to Wellington. Three crew were killed and one seriously injured.
This morning Squadron Leader Anna Shaw, who was a Flight Lieutenant at the time of the crash, told the tribunal more about the culture in 3 Squadron and flying below minimum safety standards.
She said there were occasions where squadron executives and senior pilots flew below minimum levels and suffered no consequences.
"The culture of the unit was set by individuals, by people at the top, people in command."
She also said standard operating orders were not absolute and were sometimes contradicted by other orders.
Squadron Leader Shaw was asked under cross-examination how the executives and senior officers justified flying below minimum flying levels.
"They took the risks into account and they were achieving tasks," she replied.
She said that looking back, the culture "wasn't the best".
She said the standard operating orders were written for all types of aircraft, so what was sensible for a Boeing might not be appropriate for a helicopter, which could fly slower and lower to the ground.
The orders gave "generic guidance", which couldn't be taken in isolation.
The defence will call eight witnesses and read nine statements.
When Flight Lieutenant Dan Pezaro was found to have a case to answer last week, he opted to have a summary trial rather than a court martial.
The trial is heard by a disciplinary officer alone, who will then decide guilt or innocence as well as any punishment, if found guilty.
A court martial is in front of a panel of three military officers and a civilian judge. The penalties are the same.
If found guilty, Flight Lieutenant Dan Pezaro could face a maximum penalty of two years jail in a military facility.
The hearing continues.
- APNZ