One revised option is to reclaim 179m of the harbour to extend Bledisloe Wharf.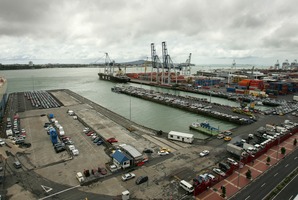 Auckland Council will host a battle of the giants tomorrow at the first public test of the Ports of Auckland's new plea for more working space by reclaiming 6.6ha of the Waitemata Harbour.
The council-owned port company will present evidence of its waterfront expansion needs to the council's Auckland Plan committee, which decides policies for the city's new rulebook for 30 years.
Its revised plans will be backed by the Auckland Chamber of Commerce but councillors will also hear objections from Heart of the City and the Westhaven Marina Users Association.
Ports chief executive Tony Gibson acknowledged last year's plan to extend Bledisloe Wharf 283m into the harbour was unacceptable and said the company now proposed two options: 135m or 179m.
Heart of the City chairman, Terry Gould, who led the successful Stop the Eastern Motorway campaign early last decade, is keen to tell the council to back off on this too.
He said the company was trying to seduce Aucklanders and the council with the prospect of its latest offer.
In return for a 179m extension of Bledisloe Wharf into the harbour, the company offered the prospect of the council being able to buy Captain Cook Wharf, which was nearer to the city centre.
Mr Gould said: "I will ask council to do what it said it would - to do a report that would examine the wider issues associated with the proposed port reclamation."
Heart of the City chief executive Alex Swney said the company was also trying to entrench the right to reclaim further in the future and its plans confirmed that valuable Waitemata views would be blocked.
Barry Holton, deputy chairman of the Westhaven Marina Users Association, said his group was "completely opposed to any more narrowing of the Waitemata Harbour, because we have seen massive changes in tidal flows".
Chamber chief executive Michael Barnett said he would tell councillors to "be brave and set a plan and stick with it".
Council officers recommend the council accept port estimates of big freight growth in the next 30 years.
They seek support in principle for two options for development planning to inform the draft unitary plan for notification in September 2013 and public consultation.