Contaminated vehicle returned to owner.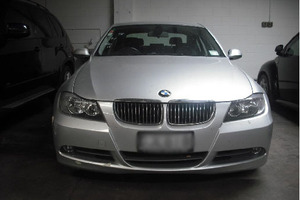 Police and specialists are warning of the rising use of stolen vehicles as mobile meth labs - which are sometimes returned to unsuspecting owners after being contaminated.
One horrified businesswoman had her stolen BMW car returned worthless after it was used for a drug-making operation.
The $28,000 silver sedan was taken from her home at Farm Cove, Pakuranga, in October. It was recovered in December during a police operation in West Auckland and she is still negotiating an insurance settlement.
The married mother of three, who asked not to be named, had the car examined after police advised her thieves might have manufactured methamphetamine, or P, in the boot.
Tests revealed dangerously high levels of methamphetamine, which are more commonly found in houses converted into labs.
"The car was a real mess and I was suspicious about a terrible stench inside," the BMW owner said.
"I wasn't surprised when results came back showing strong traces of methamphetamine. I had the car decontaminated the best I could but there is no way I would get back in it or use it to transport my children."
Her insurer had taken possession of the car after Turners Auctions told her it had no resale value.
"This has been very stressful. I want to warn other people to be very careful when buying second-hand or [when they] have had their car stolen and returned," she said.
Todd Hunter, chief executive of Turners, said all contaminated vehicles received by police went to a wreaking yard.
Waikato forensic consultant Todd Sheppard, who tested the BMW, suspected many toxic vehicles were on the road.
Dozens of vehicles have been seized by police since new proceeds-of-crime rules were introduced three years ago.
In 2010, 44 cars, vans and 4WD vehicles worth an estimated $852,000 were seized. Most seizures had involved drugs. Assistant Police Commissioner Allan Boreham said the use of cars as P labs was rising.
"Labs have become much more compact as the criminals have worked out ways to do it, and still hide it.
"It's now not uncommon for our staff to find a complete lab set up in the back of a boot that can be quickly set up in a location," he told the Herald on Sunday.
Boreham said police were increasingly dealing with seized vehicles that could pose a danger.
"Officers leave the car in situ and call the unit, and go through a process of containing and managing it from there to minimise any potential harm. It's really risky."
Anyone who thinks their vehicle is contaminated should call their insurance company, say police.
Insurance Brokers Association boss Gary Young said insurers might have to consider new policies to cover decontamination of cars.