Traveller shocked ANZ gave her counterfeit Canadian money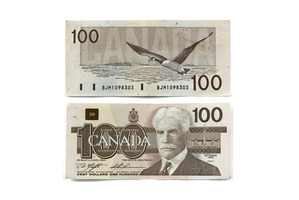 One of New Zealand's biggest banks has scrambled to assess its security systems after handing out hundreds of dollars in counterfeit money.
An ANZ customer was given bogus Canadian currency by the Remuera branch to take on holiday.
The woman - who asked not to be named - learned she was carrying the illegal notes when a restaurant refused to take one of her $100 bills.
She went to a Canadian bank where the remaining $220 was confiscated for being counterfeit.
"The bank said they had never seen a forgery look so professional," she said.
The woman said it would take her a while to get over the experience.
"It was just the embarrassment and humiliation of presenting currency in a queue of people waiting to pay their restaurant bills and having staff say to me, 'I'm sorry these don't look genuine.' They were really polite and apologetic."
The woman was told counterfeits of United States, Australian, British and European notes were less likely to slip into bank systems because they were more recognisable.
Banks use high-speed note-processing machines to authenticate bank notes. However, ANZ could not explain how the fakes had slipped through.
An ANZ spokesman said the bank apologised to the customer and refunded her money.
"We have since made additional checks and reviewed processes to minimise the chance of this happening again.
"We cannot give details for security reasons but we have taken measures to minimise the chance of this happening again."
The spokesman said in-house checks regularly identified fake notes and removed them from circulation.
The Banking Ombudsman's office, which deals with complaints about banks, was not aware of any cases where bogus foreign currency had been issued by a bank, and a police spokeswoman said there had been no complaints.
Bank of Canada assistant director of compliance Michael Duncan said the amount of counterfeit Canadian notes had decreased in recent years.
Last year, 44,975 counterfeit notes with a value of $1.5 million were picked up.
This compared with 552,980 counterfeit notes in 2004.
The number of counterfeit bank notes for New Zealand currency is low by international standards, the Reserve Bank of New Zealand said.
In the 2012 financial year there were 134 counterfeit notes found - about one note per million in circulation. The previous year there were 450 counterfeits discovered, the highest figure in a decade.
The Reserve Bank is upgrading its bank-note security features and plans to release a new series of notes next year.
New Zealand Banker's Association chief executive Kirk Hope advised affected customers to hold on to the note if possible, and return it to the bank which issued the money.
If the note is seized, people should ask for a receipt proving the loss and take it back to a New Zealand bank for a refund.
The latest crime statistics suggest counterfeiting is decreasing overall, with the number of reported offences down from 393 in 2011 to 353 last year.

Real money, but Kiwi goes to jail
A New Zealand tourist was jailed in Poland after being accused of carrying forged notes - and later found out the money was genuine.
The Kiwi withdrew Polish zloty from his bank before a holiday. When he tried to spend the money, he was accused of forgery and jailed for three weeks before being deported back to New Zealand for currency fraud.
Sir John Anderson, former banking representative on the Banking Ombudsman Scheme's board of directors, recalled it as the worst case he had dealt with in 13 years in his job.
Anderson, a former long-time chief executive of ANZ bank, wrote about the case in 2006 when he was standing down as Banking Ombudsman. The case has not been reported before.
After the tourist returned, the Banking Ombudsman was asked whether the notes were genuine.
Anderson wrote: "The aggrieved tourist had not only spent three weeks in jail but had spent considerable money on airfares.
"Fortunately the bank involved refunded the cost of a return airfare to the customer due to the unfortunate circumstances."