Determined American says being stateless only way to stop being deported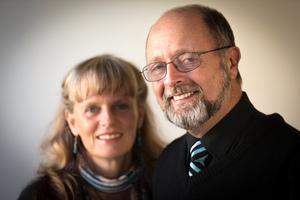 A long-term overstayer believes he has found a way to stop Immigration New Zealand from deporting him - by renouncing his citizenship.
American Harmon Wilfred, who came to New Zealand in 2001, says Immigration has got nowhere in deporting him to because he is stateless, after he renounced his US citizenship in 2005.
Christchurch-based Mr Wilfred is facing political pressure from New Zealand First to leave the country after it was reported that he owed nearly $300,000 to Inland Revenue after one of his failed companies was put into liquidation.
"I have a simple answer to why I think I should remain - New Zealand is our home," said Mr Wilfred, who is fighting to remain with his Canadian wife Carolyn Wilfred-Dare.
"As long as I am stateless with no recognition by New Zealand as to my human rights, I simply cannot leave. I am literally an alien on planet earth."
Mr Wilfred has been here unlawfully since November 2004, and had been unsuccessful in his appeal to the Removal Review Authority. A subsequent High Court judicial review of this decision also failed and two appeals to the Immigration Minister were also declined.
Mr Wilfred alleges he is a victim of a CIA conspiracy after he had acted as a whistleblower to expose alleged corruption in the agency. He fled first to Hong Kong and then to New Zealand in 2001.
He failed in a claim for refugee status in 2005, and had also unsuccessfully applied several times to the Minister of Internal Affairs for citizenship.
In Christchurch, Mr Wilfred chaired the La Famia Creative Arts trust and set up other charities under the La Famia name.
He was involved in providing vocational services for people with mental illness and children with disabilities.
Mr Wilfred said he has other businesses, such as accommodation and function centre Wigram Manor, which were "very much alive and well".
Despite owing the $300,000 in taxes, he and his wife had pumped a combined total of "between $7 and $8 million" into the economy, he claimed. "We've done nothing wrong," Mr Wilfred said. "I'm here, and I cannot go anywhere, so I am just going to make the best of it."
National MPs David Carter and Nicky Wagner had both previously written letters of reference supporting his visa applications.
Immigration spokesman Marc Piercey said the agency had been encouraging Mr Wilfred to "re-acquire his US citizenship and leave".
"Like any person liable for deportation, he does not have certainty to remain in New Zealand and may be subject to arrest and detention under the Immigration Act," Mr Piercey said.
Mr Piercey added that Mr Wilfred's course of action of renouncing his citizenship to stay would "generally not be available" to most other overstayers.
"Most countries would not allow a person to renounce their citizenship unless they hold the citizenship of another country," he said.
"For this reason, it is thought that only a small number of overstayers are stateless."

Overstayers
• 14,044 unlawfully in NZ
• 11,966 arrived after July 1, 1997
Source: Immigration NZ