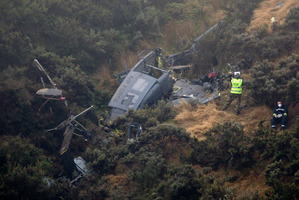 A co-pilot in a formation involved in the fatal crash of an Iroquois helicopter three years ago has a case to answer, a military tribunal has decided.
Flight Lieutenant Dan Pezaro will face a summary trial on an amended charge of failing to abort the transit flight to Wellington on April 25, 2010.
He was originally charged with negligently failing to abort the mission to a flyover of an Anzac Day parade in Wellington because of poor weather.
The crash happened early on April 25, 2010 on the Kapiti Coast, when the three helicopters were on their way from Ohakea air base to Wellington.
Three crew were killed and one seriously injured.
Disciplinary officer Wing Commander Shaun Sexton ruled that Flight Lieutenant Pezaro, who was the lead pilot in the formation, had a case to answer after the prosecution presented its evidence at a military tribunal at Ohakea over the last two days.
He was given the option of a summary trial or a court martial and chose a trial, to be heard by Wing Commander Sexton.
The defence will present its evidence from Monday at the Air Force base at Ohakea.
The tribunal was told this week that Flight Lieutenant Pezaro had flown his helicopter beneath low cloud, below the Air Force's regulation height.
Air Commodore Peter Port gave his expert opinion into a Defence Force report on an inquest into the crash.
He said that based on that report, he had concerns with why Flight Lieutenant Pezaro continued to fly past the point where he knew bad weather was ahead.
"Decisions need to balance the risk to the aircraft and its crew with the risk to the other party.''
He said there was no justification to fly below the minimum flying level.
"As far as I'm concerned standards are standards and they shouldn't deteriorate, in fact they should improve.''
Flight Lieutenant Pezaro was not attending a search and rescue or terrorist-related callout "he was flying to an Anzac Day parade and that doesn't justify putting lives at risk'', Air Commodore Port said.
Earlier, a pilot and a co-pilot who were flying in the same formation said they were comfortable with Flight Lieutenant Pezaro's decisions during the flight.
They confirmed that the culture in 3 Squadron was that pilots were given discretion to fly under minimum levels if they felt the weather forced them to.
The retired officer who authorised the mission, Squadron Leader Ron Stockley, said he had earlier warned 3 Squadron about the dangers of that, but the other instructors disagreed with him that it was a problem.
Andrew Carson, whose son Ben was one of the three men killed in the crash, said this week's hearing had been hard for him.
"I was at the hearing for the whole time and for me it was hard and emotional.
"I am not an expert in military law but I think there is a case to answer and what we heard from Air Commodore Peter Port made the most sense because he said Pezaro was at fault and the culture of breaking the rules was not ingrained in the air force,'' he said.
"I have always said Pezaro has been used as a scapegoat and that people higher up the command chain in the air force should have been charged.''
- APNZ