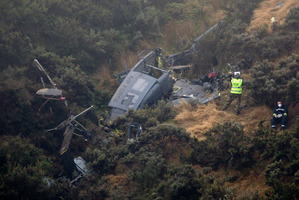 A co-pilot in a formation involved in the fatal crash of an Iroquois helicopter three years ago has told a tribunal a "good proportion" of the air force's 3 Squadron pilots were outside standard orders when flying into rough weather.
The crash happened early on April 25, 2010 on the Kapiti Coast, when the three helicopters were on their way from Ohakea air base to Wellington for an early morning flyover of an Anzac service.
Three crew were killed and one seriously injured.
The lead pilot in the formation of three, Flight Lieutenant Dan Pezaro has denied a charge of being negligent for not aborting the mission when the weather turned bad.
Yesterday a military tribunal at Ohakea was told Flight Lieutenant Pezaro had flown his helicopter beneath low cloud, under the Air Force's regulation height.
Today, Squadron Leader Anthony Budd, prosecuting, asked Flight Lieutenant Stuart Anderson, who was Flight Lieutenant Pezaro's co-pilot that day, to read some passages from the air force Standard Operating Procedure (SOP) orders.
They state that in bad weather pilots should take extra care, not fly below minimum levels and temper a "can-do attitude" with a "sense of caution".
Asked by Squadron Leader Budd what would it take for pilots not to follow the SOPs, Flight Lieutenant Anderson said: "There's no compelling reason that I can think of Sir."
Squadron Leader Ron Thackey, defending, asked whether the air force instructors and squadron executive applied the SOPs at all times.
Flight Lieutenant Anderson said they did not.
"So if they didn't, why were you expected to?" Squadron Leader Thackey asked.
Flight Lieutenant Anderson said he didn't have an answer for that.
He said a "good proportion" of the team flew below minimum levels if a task needed to be completed.
There were not many instances where missions were aborted because of poor weather conditions "whereas I can think of many instances when we didn't (abort the mission)".
Earlier today, retired Squadron Leader Rob Stockley gave evidence that when he first arrived at 3 Squadron in 2009 he emailed other instructors concerned that pilots being given discretion to fly under low cloud appeared to be accepted practice, despite rules that stated otherwise.
"I was alone in my strong rhetoric," he said.
However, he said he didn't push the issue or take it to higher-ranking officials because he was too busy or had decided the practice was not too serious.
The hearing is before Wing Commander Shaun Sexton who will determine whether the matter will be tried summarily or go to a court martial.
The hearing continues.
- APNZ