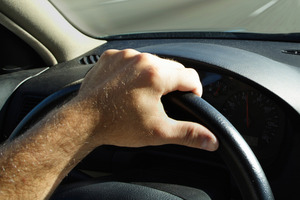 A judge says it is hard to imagine how terrified a 3-year-old boy would have been when Calvin Charles Zabell, 21, threatened to kill him and his mother during a drive from Lower Hutt to Masterton punctuated by extreme violence.
Speaking in in Masterton District Court yesterday, Judge Tony Walsh said he had "no option" but to send Zabell to prison for a total of 18 months on a raft of charges that resulted from the episode on February 8.
Zabell was appearing for sentence after earlier pleading guilty to seven charges: threatening to kill, assault on a female, common assault, assaulting a child, possessing an offensive weapon, wilful damage and theft.
The court was told Zabell had argued with the woman after she refused to give him a digital camera.
He had flown into a rage while driving, punching the woman, causing her head to hit the car window.
When she tried to escape into the back seat, Zabell continued to throw punches, some hitting the young boy.
Zabell had refused to stop driving and had threatened to kill the woman and boy, saying he would not stop hitting the woman until she was dead.
Arriving in Masterton, he had dragged the woman from the car by her hair and had ordered both his partner and the boy to undress because there was blood on their clothing.
Soon after, when his mother tried to intervene, he "back-handed" his mother, hitting her on the jaw.
Zabell also snapped his partner's cellphone in half.
When police later searched Zabell's car they found a baseball bat inside.
Zabell had claimed his partner had endangered their lives by pulling the handbrake on while he was driving and by throwing a towel over his face.
Judge Walsh said Zabell had 29 previous convictions, seven for violent offences.
He said Zabell could well have crashed the car, killing all inside or others the car hit.
"A lot of people are remorseful after violent incidents but remorse can come too late for victims," Judge Walsh said.
For more articles from this region, go to Wairarapa Times-Age