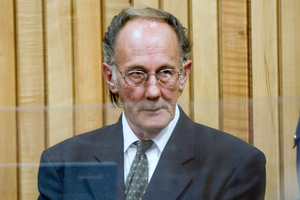 Wanganui's Mayor Annette Main is pleased the Parole Board is sending Stewart Murray Wilson back to prison.
Wilson was paroled to a house in the Wanganui Prison grounds, a decision which angered many in the city and district.
One of his conditions was that he did not have contact with a woman who had a connection to one of his victims. Despite that Wilson and the woman communicated and she sent him a Christmas present.
That action, and the fact he had tried to hide a cellphone, prompted Corrections to put him back behind bars.
The decision was endorsed by a Parole Board hearing on March 27, with the board saying Wilson still posed an undue risk to the safety of the community.
"The Department of Corrections obviously has concerns strong enough to want to have him back behind bars," Ms Main said.
She said it showed Corrections had kept its word.
"They said that if Wilson breached his conditions they would act, and they did. So I'm pleased to see that that's been upheld," she said.
Wanganui District councillor Michael Laws, among those at the forefront of community opposition to the paroling of Wilson to Wanganui community, hailed the prison recall.
"It's now clear that the community's campaign to oust and isolate Wilson has worked," Mr Laws said.
"We wanted him to feel the pressure and it's obvious that he did, hence his plan to abscond from his parole and flee to Australia. That pressure and his reaction to it directly led to his recall. That's a great result for us," he said.
Mr Laws said that not allowing Wilson to settle was both a formal and informal tactic of the council and community.
He said the authorities acknowledged that Wilson was an extreme risk.
"He should not have been released at all. They did expose our community to risk as a consequence. But the public pressure placed upon him, had its effect. He hated being here and we hated having him."
For more articles from this region, go to Wanganui Chronicle