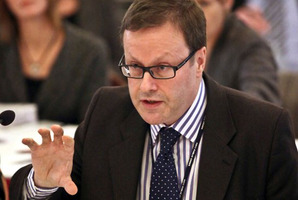 Prime Minister John Key says the auditor-general's decision to turn down Labour's request to investigate the appointment of Ian Fletcher as head of the GCSB shows their allegations were "baseless".
Labour asked the auditor-general to investigate the appointment after Mr Key confirmed he had sounded out his childhood family friend for the post himself before directing him to speak to the head of the Department of Prime Minister and Cabinet.
Speaking in China, Mr Key said Labour's claims of inappropriate behaviour were "plain wrong" and Labour and the Greens were perpetually calling for inquiries.
"Every single time there is any kind of issue Labour and the Greens call for an inquiry. Actually, it's just a political stunt.
"I'm forever having to defend these things. If there was some basis to them, then well and good, but more often than not they are completely and utterly wrong," Mr Key said.
Auditor-General Lyn Provost said yesterday the Prime Minister was entitled to have "considerable discretion" over how the appointment was made.
He had responsibility for the appointment, and, unlike chief executives of other government departments, there was no specific process set out in making that appointment.
"The person appointed serves at the Prime Minister's pleasure. As with many other ministerial appointments, the responsible minister therefore has considerable discretion about how appointments are made. He or she is accountable to Parliament and the public in the usual way for those decisions."
- APNZ