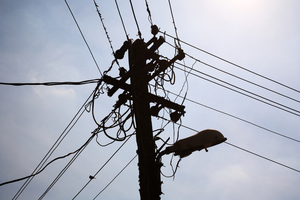 A linesman escaped almost unscathed after receiving an 11,000 volt shock - almost four times as powerful as an electric chair.
The Top Energy worker was up a power pole near Opononi in Northland when he touched a live wire and fell 8-9 metres into a hedge on Tuesday afternoon. His only injuries were singed fingers.
"[The charge] went in through one hand and out through the other, passing across his chest," Top Energy chief executive Russell Shaw said.
The man was airlifted to Whangarei Hospital and discharged yesterday to recover at home.
Mr Shaw said the worker, who was "one of our better staff members", felt lucky to be alive.
"He is an experienced linesman and understands just how significant the event was and how lucky he is to have survived, so he's feeling very relieved," Mr Shaw said.
"An electric chair is generally about 3000 volts, so 11,000 volts is a significant amount of energy."
The company and the government's labour department are investigating the incident and Mr Shaw said the power should "absolutely" have been off when the man went up the pole.
"We have a very tight process in place where the line has to be switched off," said Mr Shaw.
"It has to be isolated, we have to lock the switches to ensure that no-one else can turn it back on, and then ... if someone does turn it back on there should still be a safe zone for the guys working in the field. That's coordinated through a control room.
"Clearly that wasn't the case because in this instance the guy climbed the pole and the line was live."
- APNZ