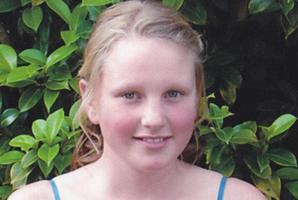 Murdered schoolgirl Jade Bayliss had "no respect" for her mother's boyfriend, and used to mock his speech impediment, a court has been told.
The boyfriend, Jeremy McLaughlin, 35, is accused of strangling the 13-year-old girl with a piece of cord before stuffing socks in her mouth and dousing her Christchurch house in petrol and setting it ablaze.
Jade was found dead in the house on November 10, 2011.
Waltham labourer McLaughlin denies murder, but has pleaded guilty to burglary and arson at his High Court murder trial in Christchurch.
Jade's mother Tina Bayliss took the stand this afternoon.
She said that after splitting up with her husband Gary - Jade's father - in 2008, she met McLaughlin in September 2011 when he was working as a security guard at a city nightclub she frequented.
They went out for four to six weeks, she said. After that, "I didn't want anything else to do with him".
Asked about her daughter's relationship with McLaughlin, she said it started off okay but soon deteriorated.
"Jade didn't have much respect for McLaughlin," she told the court.
"She didn't like the fact he would turn up uninvited. She used to take the mickey out of his speech impediment. Jade would copy what he'd said."
Mrs Bayliss recalled one incident where the schoolgirl - a star student despite some health issues that kept her at home often - took one of his Holden T-shirts, and wrote arch-rivals Ford on the tag.
"Me and the children giggled about it, because we thought it was funny," she said.
"Jeremy completely lost his temper. He said that Jade had no respect for him, that he'd just taken them out that morning ... and that he was just a f****** babysitter."
Defence counsel April Kelland earlier told the jury that timing would be critical to their case.
It was an "extremely sad case", but she asked the jury to put aside any prejudice or feelings of sympathy that may arise, and to listen to both sides of the story.
In a harrowing opening address, Crown prosecutor Kathy Bell said firefighters found Jade's body lying face down on her bedroom floor.
Post-mortem examination results showed no effects of carbon monoxide poisoning and ruled her cause of death as strangulation by a ligature.
It is the Crown's case that McLaughlin stole items from the house, including TVs, game consoles, a lawnmower, even family documents and passports, pawning some for cash, and dumping others.
He then returned to pour petrol through the house and set it on fire in "an act probably to cover up or destroy evidence of earlier crimes", Ms Bell said.
Jade was killed by McLaughlin because she was likely to be witness to him illegally entering the house, she said.
Scrapings taken from Jade's fingernails showed a strong link to McLaughlin's DNA profile, she said.
Mrs Bayliss said Jade was a very clean person, showering twice a day, and taking particular care of her nails, making sure they were short and clean.
The court heard that McLaughlin had dated Jade's mum until a few weeks before the girl's death.
Jade, the oldest of Mrs Bayliss' three children wanted to do "everything in her power to split up" her mother and any men, as she wanted her parents - who separated in 2008 - to get back together, the court was told.
Mrs Bayliss said her "fantastic artist" daughter was "very protective" of her parents and found their break-up difficult.
"She didn't like me going out with anybody," she said.
"She still had the feeling Gary and I could get back together."
McLaughlin's friend and flatmate at the time of the murder, Jolon Sweeney, 41, is also on trial, charged with being an accessory after the fact of the burglary and arson as well as attempting to obstruct the course of justice.
The trial continues.
- APNZ