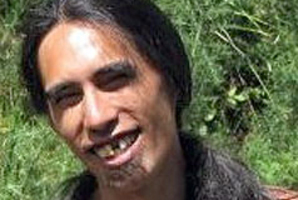 Murder accused Gavin Gosnell told police he thought Christchurch schoolboy Hayden Miles was "in love" with his girlfriend, a court has heard.
In a taped interview with police, Gosnell said he thought Hayden had shown up to his flat on August 22, 2011 to profess his love for Gosnell's then girlfriend Nicolette Vaux-Phillips. He said he had thought Hayden was gay before that because he flicked his hair, the court heard.
Gavin John Gosnell, 28, denies murdering the 15-year-old Christchurch schoolboy after a brutal and prolonged beating on August 22, 2011.
His legal team said he never meant to kill him, and that Gosnell should be convicted of manslaughter.
The High Court trial in Christchurch has this week heard graphic details of Hayden being beaten to death before being sawn into 12 pieces and dumped in two nearby graveyards. His organs were buried in a back yard.
Gosnell admits the beating led to the schoolboy's death, but his defence team argues he should be convicted of manslaughter, not murder, because he did not intend for Hayden to die.
Hayden was reported missing after going to see his friend Nicolette Vaux-Phillips at the Linwood house she shared with Gosnell. His remains were found after a four-month missing persons inquiry.
Gosnell told Detective James Haig in the interview he heard someone at the rear of Cashel St property "jumping the fence". When he went out he saw a 'drunk' Hayden with injuries to his lip and eye.
He told police he had looked after Hayden, showering him before letting him "crash on the couch."
He said during the interview that he dragged Hayden inside, gave him a shower and put him on the couch. Hayden left before Gosnell woke in the morning, Gosnell said.
Hayden had "left a mess" of blood from his facial injuries at the flat, which Gosnell said he and Nicolette had to clean up.
Detective Haig asked Gosnell how much blood there was.
"Enough that people would say, hey Maori [Gosnell's nickname] what's going on here?" Gosnell said.
Gosnell said he thought Hayden had turned up that night to profess his feelings for Nicolette. Until then, Gosnell said he thought Hayden "was gay".
Gosnell, in court, did not watch the video, instead keeping his head down for the duration and playing with the zipper on his jacket.
Gosnell told Detective Haig the couch which Hayden slept on was burned in a "bonfire" soon afterwards. He said it was to "keep warm".
Throughout the interview Gosnell said he was not good at remembering times and dates.
"I'm not good with that kind of stuff bro," he told Detective Haig.
When asked if he had seen Hayden since that morning, Gosnell said "not a word".
He said he thought Hayden had just left.
"Bro I was raised in CYFS mate, I was in it and for a year I was gone and they didn't worry about me. I came back when I was hungry and needed a shower," he said.
The court heard this week that Hayden had been in foster care before his death.
The court will be shown the rest of the video this afternoon.
This morning witnesses told the court Gosnell was cutting up Hayden Miles when they arrived to visit on the morning after the 15-year-old was beaten.
Two witnesses appeared via video link today from the North Island, and spoke about the morning after Hayden's beating. They have interim name suppression.
The two women, and a male who also has name suppression, visited Gosnell's Cashel St flat at or around 11.30am on August 23 the court heard.
The doors and windows were locked, where normally, the first woman witness said they would be open, even if Gosnell was not there. She went around the side of the house to see if she could find a way in.
The second woman witness reported hearing a "vacuum" sound coming from the flat.
She and the male knocked on the door several times before Gosnell opened it "wearing gloves" and only jeans. He opened the door enough to get through, the court heard from the second witness.
The second woman witness said before he shut the door, she "saw a plastic black thing on the ground".
The witness described Gosnell as being "quite upset" and the court heard Gosnell told the trio several times that they "shouldn't be here".
When asked why not he replied "he had had a fight and that someone was dead on his couch."
The second woman witness told the court she "freaked out". When Gosnell was asked what he was doing, the second witness said: "He said he was cutting him up and was going to bury him around Christchurch."
Under cross-examination today from defence counsel, Craig Ruane, she said Gosnell was "upset" and said his demeanour "just wasn't him".
The trial, before Justice Lester Chisholm and a jury of six men and six women, continues.