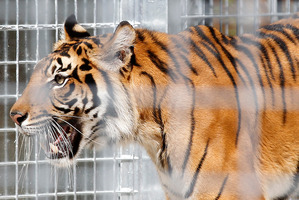 Human error put a Hamilton Zoo keeper at risk from a female tiger, an investigation by the Ministry of Primary Industries has found.
The March 16 encounter occurred when the zoo's tigress, Sali, got into the exhibit with a keeper due to a door within the exhibit being left open. The close call resulted in no harm to the keeper and public safety was not compromised.
The investigation included taking the keeper off tiger duties immediately, interviews with the keeper and witnesses, providing the ministry with a full report of the situation and an audit of the tiger facility and processes.
It found Hamilton Zoo had appropriate procedures in place and the incident was due to human error.
Hamilton Zoo director Stephen Standley prepared a full report which confirmed the incident was human error and the failure to comply with the zoo's existing operating procedures.
"Since the incident, we have held a full investigation alongside the audit by the ministry.
"This has involved interviews with the keeper and witnesses and an audit of the tiger facility and processes."
This has also resulted in preventative actions that will be implemented at the zoo.
"We are fully implementing a key retention padlock system for all carnivores and primates at our zoo. Essentially, the security key cannot be removed from the padlock in the open position, so keepers are constantly reminded to lock doors once they have completed working in an animal area," Mr Standley says.