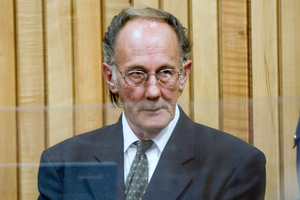 Sex offender Stewart Murray Wilson should not be subjected to an extended supervision order once he is released from prison because his victims were not generally children, his lawyer has argued.
The so-called Beast of Blenheim was controversially released from prison in August last year after serving an 18-year prison sentence for a series of sex offences.
He was recalled to prison in February after making a phone call to a woman he was barred from contacting under his strict release conditions.
The Parole Board yesterday released its decision to keep Wilson behind bars, saying he posed an undue risk to the community.
Wilson's lawyer Andrew McKenzie today all but dropped an appeal against Wilson's strict release conditions, telling the Court of Appeal the recall had made it moot.
But he pressed ahead with an appeal against Wilson's 10-year extended supervision order, which would come into effect once Wilson is released from prison and any parole conditions expire.
That is likely to be in March 2016, six months after Wilson's statutory release date in September 2015, when parole conditions would expire.
Extended supervision orders are intended to protect potential victims under 16 against convicted child sex offenders, with conditions similar to parole conditions.
Mr McKenzie told the Court of Appeal today that the supervision order was made prematurely because it could not account for Wilson's position at the time it would be imposed, which could be several years from now.
The order should be a "remedy of last resort" and granting it too soon breached the Bill of Rights.
Mr McKenize said the High Court judge who granted the order last year had erred in doing so because such orders are designed only to protect potential child victims.
He accepted Wilson had convictions for offences against children, including rape and indecent assault, but said Wilson's victims were not generally children.
Instead, his victims were mostly vulnerable women. Where he did offend against children, they were the daughters of those women and the offending was a form of manipulation.
Mr McKenzie noted Wilson was not like other predators who used "snatch and grab" tactics or sought out positions which allowed them to offend against children.
He said the 67-year-old's age also reduced his risk of offending. He was in his 30s and 40s when he committed the offences, but could be in his 70s by the time the supervision order was in place.
Department of Corrections lawyer Stephanie Edwards countered there was no error in granting the supervision order.
The judge who did so had noted Wilson was an "indiscriminate" offender, and the acts against children could not be described as incidental.
"Essentially it is the manipulation and the control that the appellant has exercised over vulnerable victims in the past that makes him a continued risk in the future."
Ms Edwards said the order was not premature because the conditions would only be set right before it was due to come into effect.
Conditions were generally similar to parole condition, she said, including restrictions on address and contacting victims.
The court reserved its decision.
It also gave counsel a week to make submissions on whether the appeal against Wilson's parole conditions should be dismissed entirely, or adjourned so it could be held if Wilson was successful in appealing his recall to prison.
Mr McKenzie today confirmed Wilson would appeal the recall decision, although he conceded it was unlikely his client would be released on parole before the statutory release date.
- APNZ