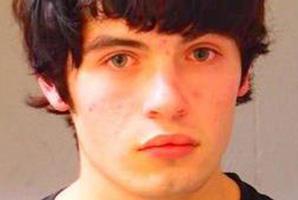 Gavin Gosnell fantasised about killing a child in foster care just to say he had done it, a former partner told his murder trial today.
Gavin John Gosnell, 28, denies murdering 15-year-old Christchurch schoolboy Hayden Miles after a brutal and prolonged beating on August 22, 2011.
He says he never meant to kill him, and that he should be convicted of manslaughter.
The High Court trial in Christchurch has this week heard graphic details of Hayden being beaten to death before being sawn into 12 pieces and dumped in two nearby graveyards while his organs were buried in the backyard.
On the third day, an ex-partner of Gosnell claimed he'd repeatedly told her that he wanted to kill someone.
The woman, who has name suppression, said Gosnell wanted to target "someone who wouldn't be missed by their family, like a child in CYF (Child, Youth and Family) care".
She didn't take him seriously as he would always laugh it off.
"I didn't believe he would ever actually do it ... I thought it was tough guy talk," she told the court.
On one occasion, the alleged murderer even told the woman that he had killed someone but later said he'd made it up.
The witness, speaking from behind a screen, also said Gosnell had wanted to use her as bait for a potential victim.
"He didn't think anybody would just go with him - he wanted me to be a lure," she said.
Gosnell also claimed he wanted to drive around and pick up a hitch-hiker and take them back to the house before raping and torturing them.
Under cross-examination by defence counsel Craig Ruane, she admitted the claims often came while they were watching "CSI-like" programmes, or real-life documentaries about serial killers.
She referred to them being like 'Bonnie and Clyde', but admitted she didn't know who the Depression-era bank robbers were.
Mr Ruane says the comments were made in the context of watching TV shows or series, like he was providing a commentary.
"When they were closing in on the perpetrator, he would comment, 'I wouldn't do it like that'.... or 'I'd do it this way and wouldn't get caught'."
She accepted that may have been the case, but claimed he'd also said such things when they weren't watching TV.
Yesterday the trial heard a statement from Hayden's mother who said he was a "difficult" child whose behavioural issues saw put him into foster care before he was killed.
It also heard from a witness who lived in the same four-flat Cashel St block as Gosnell who told of a bizarre conversation he'd had with the alleged murderer.
The man moved in a week or so before Hayden was killed and recalled a night when they were drinking Vodka Cruisers in his flat and chatting.
"And out of the blue he asked me if I've ever stayed in the same room with someone who has killed somebody. I replied yes, I've been in prison. He started laughing and went on to another conversation," said the witness, who has name suppression.
He couldn't recall if Gosnell had been serious.
The trial, before Justice Lester Chisholm and a jury of six men and six women, continues.
- APNZ