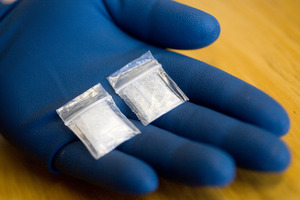 A sentencing judge has told two methamphetamine suppliers they were dealing "one of the most evil drugs known to man".
Bernard Simon Monk, 33, was found guilty by a jury of two charges of possession of methamphetamine for supply and Warren Robert Henwood, 54, was found guilty of one of possession of methamphetamine for supply.
During sentencing yesterday in the Whangarei District Court, Judge Duncan Harvey said courts needed to send the message that drug dealing would not be tolerated.
"Methamphetamine is now known to be one of the most evil drugs known to man. The devastation it causes to our community is incalculable," he said.
Monk was sentenced to five and a half years jail while Henwood was sentenced to four years and three months' imprisonment.
Judge Harvey said Monk had been stopped on May 18, 2011, by police doing a traffic check near Onerahi Hill. He ran off into the bush where police discovered he had discarded small bags of methamphetamine.
A search of the car revealed more than $16,000 cash in neat bundles.
During the trial the jury heard Monk claim the money was from the sale of a Harley Davidson motorbike.
On June 3, 2011, Monk told the court he had arranged to meet and buy methamphetamine from Nicholas Nordstrand at Henwood's workshop on Herekino St in Whangarei.
Nordstrand previously pleaded guilty to possession of methamphetamine for supply and was sentenced to four years in prison in August 2011.
Police executed a "rapid entry" at the property and found Henwood coming out of the toilet downstairs and Monk upstairs with Nordstrand.
Officers found a total of 14.4 grams of methamphetamine, a number of plastic point bags and a highly sensitive set of digital scales.
Lawyer Wayne McKean said Henwood was not supplying the drug but had allowed his property to be used.
Judge Harvey said he was satisfied Henwood was in the business of supplying methamphetamine.
Lawyer Catherine Cull, appearing for Monk, said he was addicted to methamphetamine and he had kept it a secret from his girlfriend.
She said some of the methamphetamine found during the police raid was for Monk's own use.
During his time on bail Monk had moved away from Northland and had become more active in the church.
"He wants to move on. He is a person with a lot of talent but he has been riddled with drug addiction from an early age."
For more articles from this region, go to Northern Advocate