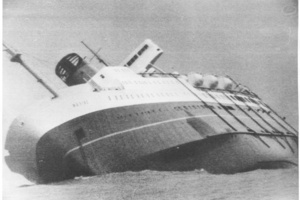 Survivors, crew and rescuers of the Wahine disaster gathered at the Wellington Museum of City and Sea, on the 45th anniversary of the interisland ship's sinking.
About 70 people gathered around a model of the Wahine foundering in stormy seas.
The ship's bell tolled and a wreath was laid by a policeman who pulled many bodies ashore that washed up at Eastbourne.
A close friend of one of the crew killed on the day offered a Maori blessing on behalf of the ship's crew, survivors, and those who died.
The Wahine disaster happened on April 10, 1968, when the Union Steamship Company ferry travelling from Lyttelton got into strife in foul weather on Barrett Reef, at the entrance to Port Nicholson (now Wellington Harbour).
Of the 610 passengers and 123 crew on board for the sailing, 53 people perished.
Because of its proximity to the city of Wellington, the disaster became known as one of the first major events to be captured by television news crews in New Zealand as it happened.
* Watch a news report from the time on NZ on Screen here.
The godson of the ferry's master says he has been fighting a battle to make public the truth about what happened.
Murray Robinson is the godson of Gordon Robertson, who was in charge of the ship when it hit rocks and began to sink in the Wellington harbour during a storm in 1968.
He often sees reports of what happened that day and says they aren't entirely accurate.
These include "that he was asleep that morning until it was too late, that he gave engine orders that caused the ship to be thrown against the reef, that he stood around doing nothing, that he gave the order to abandon ship when it was far too late".
Mr Robinson says he has spent the last 20 years researching what happened at the time, and has put together a website for those interested.
However, it's not just the sinking of the Wahine that will be remembered today, but also the storm that caused it.
Museum of Wellington City and Sea's Kim Young says today will be a special day for many.
"It's 45 years on, two generations on, yet the memories of the Wahine storm and the sinking of the Wahine are still vivid in the minds of many Wellingtonians."
* Read the Herald's live news blog here.