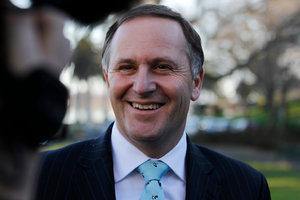 Prime Minister John Key used his visit to Shanghai yesterday to spearhead a co-ordinated drive to increase the number of Chinese tourists coming to New Zealand.
And Air New Zealand is working with a popular dating show in China, You Are the One, on New Zealand themed shows later in the year.
The show has an audience of 300 million, 10 times the audience of American Idol, says Air New Zealand chief executive Christopher Luxon.
Mr Luxon, who is on Mr Key's trade delegation to China, also announced that the multi-entry visa that is granted to travellers from China would be doubled from one year to two years.
Parents and grandparents of people studying and working in New Zealand can also get a multiple re-entry visa.
Air New Zealand and Immigration New Zealand announced they would replicate an arrangement that China Southern Air has with Immigration NZ to allow Chinese tourists with Elite, Gold and Silver frequent flyer status to be fast-tracked for visas.
They will still have to meet good health and character tests, but they won't have to provide proof of employment and ability to support themselves, and Immigration has undertaken to try to process their visas within five working days.
Mr Luxon was supported by Air New Zealand Shanghai-based cabin crew in Hobbit ears. The Hobbit is very popular in China.
Chinese tourist numbers to New Zealand increased 38 per cent over the past year and 100 per cent this February compared with a year ago.
Present outbound Chinese tourism is projected to increase from 82 million a year now to 400 million a year in five years and Mr Key wants New Zealand positioned to attract a share of that.
Mr Key's programme in Shanghai was disrupted because the Government decided to released the report on spy agency GCSB early.
"About the last thing we wanted to be doing is standing here in China dealing with this," he said at a press conference convened in his hotel after the Government decided to release the report early because of leaks.
He heads to Beijing about 2 pm today for an official welcome at the Great Hall of the People by Premier Li Keqiang and a new round of talks.
At the tourism event in a Shanghai hotel last night, Economic Development Minister Steven Joyce launched the publication of a Chinese language version of the classic children's story book Hairy Maclary from Donaldson's Dairy written by Dame Lynley Dodd.