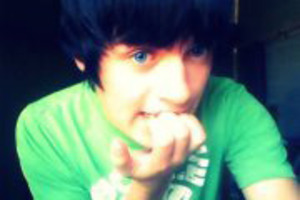 Hayden Miles was a "difficult" child whose behavioural issues saw him put into foster care before he was killed, his mother told a court today.
The 15-year-old was due to return to the Christchurch home of his Tough Love programme leader on the night he was brutally bashed, dismembered and dumped at two city graveyards.
Instead of going to school that day, he'd visited his mother and posted on facebook, 'Who wants to get trashed?'
Close pal Nicolette Vaux-Phillips responded and invited him to the tiny Cashel St flat she shared with her partner Gavin John Gosnell.
Hours later, Hayden was allegedly robbed by one of Gosnell's mates of an iPod and cellphone.
Battered and upset by the incident he told Gosnell his girlfriend was only using him and didn't like him.
That was when Gosnell launched a savage and prolonged attack on the youngster which ended his life.
At the second day of the High Court murder trial in Christchurch, where Gosnell denies murder and is pushing for a manslaughter conviction, Hayden's bereaved mother Jacqueline Miles gave evidence.
In a written statement, read out in court, Mrs Miles said she separated with Hayden's father when their son was aged 8.
After behavioural issues, Hayden went to live with his father.
His behaviour got worse after starting high school, punctuated by truancy and other difficulties.
The family asked Child, Youth and Family to help in December 2010.
With the family's agreement, he went to live with foster carers.
Mrs Miles attended meetings held by Tough Love - a national organisation offering support to parents of troubled teens - and in April 2011, it was agreed Hayden would live with his programme leader.
He was living there on August 22, 2011.
Earlier that day, he was supposed to be at school, but had gone to visit his mum, she said.
Afterwards, she dropped him at Bishopdale Library so he could use the internet.
She phoned his foster home at 6pm to check on him, but was told he wasn't there. She later phoned police.
Soon after Hayden texted her from an unknown number saying he'd been jumped and his phone was stolen.
She phoned the number and told Hayden to go home, but he simply repeated that he'd been robbed.
Vaux-Phillips earlier gave harrowing evidence of Gosnell's attack, which she witnessed.
She told the court Gosnell threatened her with the same fate as Hayden if she didn't help cover up the teen's death and bury the body parts in two nearby cemeteries.
Vaux-Phillips - who was last year sentenced to 12 months of home detention after admitting a charge of being an accessory after the fact to culpable homicide - earlier accepted Hayden was "quite a troubled kid" who had appeared in Youth Court, and indulged in "drinking and smoking a bit of drugs".
Under cross-examination by defence counsel Craig Ruane, she accepted that Gosnell's attack was "an assault that went too far".
In police interviews, she said Gosnell had been trying to knock out Hayden and never said he wanted to kill him.
Vaux-Phillips, now 19 and a mum-of-one, admitted that Gosnell had "panicked" and was in shock after realising Hayden was dead the morning after the attack.
Mrs Miles also told how she'd been in contact with Vaux-Phillips after August 22, but said the younger woman continually lied about knowing what happened to Hayden.
The trial, before Justice Lester Chisholm and a jury of six men and six women, continues tomorrow.
- APNZ