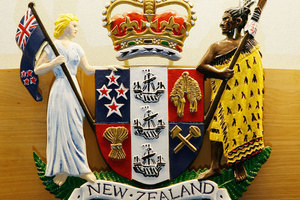 A Hokitika man who crashed a party in Greymouth, assaulted a woman and broke a window, tried to avoid prosecution by shaming his accusers on Facebook.
Acen Garry Fairbrother, 19, pleaded guilty yesterday to common assault and wilful damage after the assault charge was reduced from two counts of assaulting a female.
On June 10 last year, Fairbrother was among 20 to 30 people who arrived uninvited at a party in Alexander Terrace.
Shannon Robertson, who lived at the house at the time, said police shut the party down, but Fairbrother and several others returned about 3am, even though everyone had gone to bed. When Ms Robertson got up and told him to leave, Fairbrother shouted abuse at her. He also pushed her over and kicked her knee, which was injured and in a brace at the time, but she told the court she could not remember details of the assault.
One of the invited guests, Sarah Jellyman, came out of her then-boyfriend's room when she heard yelling. She said Fairbrother spat in her face and grabbed her by the hair on his way out the door, then threw a rock through a front window.
When she followed him down the street to make sure he was leaving, he shoved her against a truck, spat at her again and threatened to trash her on Facebook.
However, defence lawyer George Linder said it was the women who were attacking Fairbrother as he tried to leave the house, and he did not throw a rock at the window.
Sergeant Wayne Corbett said Fairbrother told him the women were making things up, so he posted his version of events to Facebook and 65 people agreed with him.
In court, Fairbrother admitted to the assault and wilful damage after two other witnesses remembered him throwing the rock through the window.
Judge Alistair Garland said he "had the displeasure of listening to what goes on in the social scene of young people in Greymouth" and told Fairbrother to stop turning up to parties uninvited.
Fairbrother was convicted, ordered to pay $40 reparation and sentenced to nine months' supervision, with conditions that he undergo counselling and restrict his use of social media websites.
- The Greymouth Star