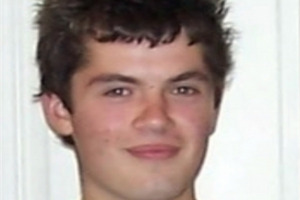 Warning: This story contains explicit content.
Murder accused Gavin Gosnell asked a neighbour if he'd ever shared a room with a killer around the time teenager Hayden Miles was killed, a court heard today.
Gosnell, 28, denies murdering the 15-year-old Christchurch schoolboy after a brutal and prolonged beating.
He says he never meant to kill him, and that he should be convicted of manslaughter.
The High Court trial in Christchurch opened yesterday with graphic details of Hayden being beaten to death before being sawn into 12 pieces and dumped in two nearby graveyards.
On day two of the trial, a witness, who lived in one of the four flats where Gosnell lived, took the stand to give evidence about a bizarre conversation he'd had with the alleged murderer.
He moved in to the Cashel St address where Gosnell lived about mid-August - a week or so before Hayden was killed.
The witness recalled one night when they were drinking Vodka Cruisers in his flat and chatting.
"And out of the blue he asked me if I've ever stayed in the same room with someone who has killed somebody. I replied yes, I've been in prison. He started laughing and went on to another conversation," said the witness, who has name suppression.
He couldn't recall if Gosnell had been serious.
Under cross-examination by defence counsel Craig Ruane, the witness said he believed the conversation took place around the end of August, which would have been after Hayden died.
Gosnell's then 18-year-old girlfriend, Nicolette Vaux-Phillips - who witnessed the violent assault and found Hayden dead the next morning before Gosnell dismembered his body - was also in the room, but was "sitting quietly, drinking".
A few days later, the witness saw Gosnell working on his car in the driveway.
Quizzed over his recollection of timings, the witness replied: "I've tried to erase this whole thing from my mind a long time ago."
Vaux-Phillips - who was last year sentenced to 12 months of home detention after admitting a charge of being an accessory after the fact to culpable homicide - earlier gave evidence of the grisly death.
She had invited Hayden around for drinks at the Cashel St flat.
When they ran out of bourbon, they decided to steal some from a nearby supermarket.
But while Hayden was stealing a cask of wine, Gosnell bumped into a friend and the pair plotted to take the younger man's iPod.
While walking home, Hayden was jumped from behind and his iPod, cellphone and the wine were stolen, Crown prosecutor Barnaby Hawes said.
A young woman who bumped into Hayden in a chance encounter after he'd been robbed gave evidence today.
Suneeta Sloan described him as wearing Doc Martin black shoes, skinny jeans, and a leather jacket.
He was feminine, rather than masculine, and was skinny, "sort of on the more girlie side".
They later exchanged names.
She said he'd just been bashed by a group and his cellphone had been stolen.
He said he'd been hit in the temple. She couldn't see any bruises or blood though.
Asked exactly what he told her, she said, "Filthy n****** stole my phone and bashed me for it."
Miss Sloane let him send a text to his mother on her phone.
Jacqueline Miles rang back and they talked, but Hayden was more upset and angrier afterwards.
"I was quite scared and worried for him," Miss Sloane said.
"He was also talking suicide. I stayed with him and talked to him."
He calmed down, and offered her a drink from a green cask of cheap wine he had with him.
She declined, and he said he was going to a friend's house and would be okay.
Miss Sloan never saw him again.
In the next day or so, Mrs Miles contacted Miss Sloan concerned that Hayden hadn't been seen since.
She tried to reassure her that he would be ok, and probably needed time to calm down.
But Hayden had returned to the Cashel St flat and had told Gosnell his girlfriend was only using him, and didn't like him.
It was then that Gosnell started the attack.
The trial, before Justice Lester Chisholm and a jury of six men and six women, continues.
- APNZ