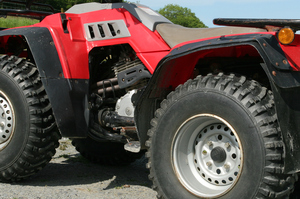 A Federated Farmers leader has called on a coroner to look into rural suicides instead of concentrating on quad bike deaths.
Federated Farmers meat and fibre chairwoman Jeanette Maxwell was giving evidence today at the inquest into the death of Grant Cornelius.
The 53-year-old was spraying weeds on his small Dairy Flat farm near Albany, Auckland in September, 2011 when his bike toppled on a slope, fell on him and killed him.
Ms Maxwell told the inquest at the Auckland District Court that Federated Farmers advise their members on safety and have recommended mandatory beeping devices be installed to quad bikes to make reversing safer.
She said young people are also able to do a course in operating quad bikes safely.
But she told Coroner Brandt Shortland to keep the issue in perspective and said 20 times more rural people commit suicide.
Asked if she had any other comments, Ms Maxwell told the court that her passion was raising awareness of the rural suicide rate.
"This is something that is really killing farmers but we don't seem to be getting any traction."
Ms Maxwell was asked if the prices of meat corresponded to accident rates and suicide.
"We've seen a spike already. It's sad ..."
Coroner Shortland said the whole country had a high suicide rate and pointed out that more people take their own life than are killed on the country's roads.
He said tractors had moved with technology and asked what position Federated Farmers took when it came to roll cages being fitted to quad bikes.
Ms Maxwell said her organisation advises farmers do their "own homework" and did not recommend any particular brand.
Earlier, Coroner Shortland said Mr Cornelius' death was similar to other avoidable incidents involving quad bikes, which he described as farmers' best friends and worst enemies.
"Every Kiwi in New Zealand thinks they can ride a quad bike - just jump on and ride but it's far more dangerous than that ... there's no room for mistakes," Coroner Shortland told the court.
Excess weight on the bike and the steep angle of the slope were among the factors that led to Mr Cornelius' death, Coroner Shortland said.
About 11am Mr Cornelius filled a 100-litre spray tank with thistle spray and fertiliser, which was put on the back of the bike. A toolbox with several large tools was attached to the front.
The combined weight, added to Mr Cornelius' 96kg "would have brought it up to if not over" the recommended maximum weight of 172kg for the Suzuki 400cc bike, said Sergeant Blair Atkinson of the Waitemata Serious Crash Unit.
As Mr Cornelius was riding along soft ground on a slope estimated at 30 degrees his front wheel hit an animal rut, causing the bike to roll onto him, said Mr Atkinson.
When he hadn't returned home for lunch at noon, farm worker and friend Irene Flynn went to look for him.
"I saw he was pinned by the bike ... he was purple and looked horrible. I checked for a pulse but couldn't find one."
With the help of a neighbour they rolled the bike off him and performed CPR before ambulance crews arrived but he couldn't be revived, said Ms Flynn.
She described Mr Cornelius a "a pretty safe guy".
He was not wearing a helmet but that would not have altered the outcome of the accident because the bike landed on his torso.
The bike was not fitted with a roll bar or roll cage. It is not known if these would have had an effect, the court heard.
On average five people die and 850 are injured while riding quad bikes in New Zealand each year.
The hearing is due to finish on Thursday.
- APNZ