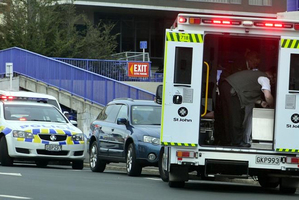 A 19-year-old skateboarder who suffered a serious leg injury after skating under a truck has been charged by Dunedin police with careless use of a skateboard.
He is believed to be the first person in Dunedin to be charged following a crash on a skateboard, and Acting Senior Sergeant Tania Baron said he would not be the last.
"If we come across people on skateboards not following the road rules, we will deal with them."
She said witnesses told police the skateboarder had reached speeds of up to 40km/h yesterday while skating down High St.
"Certainly, it was the fastest vehicle around at the time."
Ms Baron said the skateboarder travelled through a give way sign and on to Broadway about 9.30am, where a Daihatsu truck was backing into a parking space.
"The truck was on a diagonal and he shot right under the truck and shot out the other side.
"The skateboard was left in two pieces. He received a serious injury to one of his legs and he was taken to [Dunedin] hospital by ambulance.
"He was very fortunate not to have been killed."
She said the truck driver "got an awful fright" but was uninjured.
Skateboards are considered vehicles by police and Ms Baron said they were allowed to travel on roads.
However, they were also expected to follow road rules.
Travelling down hills on skateboards was dangerous because they had no brakes or the protection of seats and seatbelts.
"This example illustrates the danger."