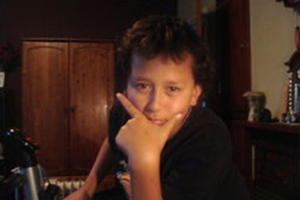 A teenager and a 20-year-old died in an after-party crash caused by the unlicensed driver reaching 145km/h while racing his overloaded vehicle, a coroner has found.
Bailey Kinita, 14, and Louise Reichenbach, 20, suffered fatal head injuries in the crash at Foxton on February 20, 2011.
The pair had been at a 21st birthday party at a house in rural Himatangi, near Palmerston North.
The party at Charles Hadley's house was organised by his son Levi who advertised it on his Facebook page - a decision described by Coroner Tim Scott as "unwise" as it had the potential to spiral out of control.
About 150 people attended, some of whom, including Bailey did not know the family, and had learned about the party from word of mouth.
The host offered food and water, did not supply alcohol but allowed people to drink alcohol they had brought. There were no obvious signs of drunkenness, said the finding.
In the early hours however, fights started between some of the partygoers, and everyone was told to leave.
Mr Hadley and his partner drove some of the partygoers to other destinations - an option Bailey planned to take up but when he asked, there was no room in the last carload for more passengers.
The outcome would have been very different had he got a ride from Mr Hadley's partner, "but that is not a reflection in any way upon Charles' partner or the way the party was managed," said Coroner Scott.
Bailey decided to get a ride with another partygoer William Nicholson-Kuiti, 19, an unlicensed driver. Ms Reichenbach was also in the overloaded car. She was sitting on the floor and Bailey was on someone's knee. Neither of them were wearing seatbelts.
The driver started to "rark it up", reaching an estimated speed of 145km/h while racing another car, said the finding.
"He (another passenger) said that he told William to slow down and so did Tia. At some point Louise said 'I am going to die'," said the finding.
The driver failed to slow down and as the car approached a left turn it continued straight ahead. He tried to correct it but the car rolled, fatally injuring the two passengers, who died at the scene.
The driver was seriously injured and found to have 108mg of alcohol per 100ml of blood. People aged under 20 are cannot legally drive with any alcohol in their system.
"Bailey and Louise made bad choices when they decided to accept a ride in the Reichenbach car, driven overloaded by William," said Coroner Scott.
But it was William Nicholson-Kuiti who failed to protect them and caused the deaths, he said.
"He drove at least alcohol impaired, probably while drunk. He drove badly at first and then dangerously and did not slow or stop when requested on more than one occasion by more than one passenger to do so."
He acknowledged Mr Nicholson-Kuiti's remorse and the apologies he made to the families.
- APNZ