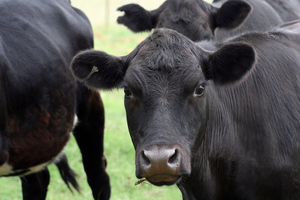 A "bold and outrageous" cattle rustling case has divided a rural community north of Auckland.
Nigel John Collins was today sentenced to nine months home detention, 200 hours of community work and ordered to pay more than $48,000 in reparation to two victims after stealing 21 pregnant cows in Wellsford in 2010.
The Crown argued Collins directed the cattle onto his property through a cut fence, put his ear tags on them and planned to sell them to the meatworks.
But Collins maintains the cattle were hungry and walked on to his property through poorly maintained fences.
During sentencing at Auckland District Court today his lawyer Paul Davison QC said Collins had "scrambled up and down" the fence lines of the farm and they were not in good condition.
He said his client had not hidden the cattle and they were visible from the road.
However, Judge Lawrence Hinton said he found Collins' evidence "evasive" and was not convinced by his defensive nature.
He said Collins' neighbours referred to their cattle "almost with affection" and could identify them from photographs.
"Mr Mayall was to say that if you scratched number 104's tail it would go like a windscreen wiper," Judge Hinton said.
They had also given some of their cattle names on account of their markings, including Paws, Paintpot and Doubledot.
DNA testing also showed many of the cows had been impregnated by their bulls, one of which was called Horace.
He described Collins' crime as a "heist" and called it "bold and outrageous".
"A shoplifter must be deterred and a cattle rustler should most certainly be. Farmers have enough to worry about without worrying about their neighbour's intentions."
Collins was sentenced after earlier being found guilty of five charges and acquitted of a sixth.
Judge Hinton ordered him to pay Arthur Mayall and Heather Jones more than $41,000 in reparation, including a payment for emotional harm and vet bills.
He was ordered to pay $7000 to his second victim, Jon Boyd.
Outside court Mr Mayall said he and his partner had been pushed out of their home and had moved to the Bay of Islands.
"[Collins] was just a big bully."
Mrs Jones said the case had divided Wellsford. Her family were newcomers to the area and have had some support but others still believe Collins is innocent, despite the evidence.
Mr Boyd described the case as "a long three years" and was glad it was over.
He said cattle rustling was a big problem in New Zealand, but usually only one animal was taken for a homekill or a raffle at the local pub.
"I hope the other serial rustlers out there get caught too."
- APNZ