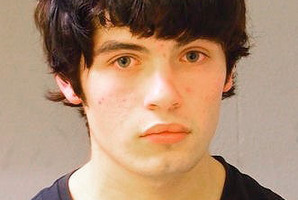 Warning: This story contains explicit content.
The girlfriend of the man accused of murdering Christchurch schoolboy Hayden Miles was threatened with the same fate if she told police and even got a tattoo featuring the killer's name months later.
Nicolette Vaux-Phillips, 19, witnessed the savage and prolonged beating of her 15-year-old friend by her partner Gavin John Gosnell.
The High Court trial in Christchurch yesterday heard graphic details of Hayden being beaten to death before being sawn into 12 pieces and dumped in two Christchurch graveyards
Unemployed Gosnell, 28, denies murdering Hayden on August 22, 2011.
He admits the beating led to the schoolboy's death, but his defence team argues he should be convicted of manslaughter, not murder, because he did not intend for Miles to die.
Hayden was reported missing after going to see his friend Vaux-Phillips at the Linwood house she shared with Gosnell. His remains were found after a four-month missing persons inquiry.
Today, Vaux-Phillips, a 19-year-old mum-of-one, continued her evidence on day two of the trial.
After the attack, she says she was forced to help Gosnell dispose of the body.
Gosnell dismembered the body into 12 parts with a jigsaw, she said.
Vaux-Phillips - who was last year sentenced to 12 months of home detention after admitting a charge of being an accessory after the fact to culpable homicide - was then told to clean up the bloodied mess.
Gosnell threatened to "do the same thing" to her if she refused.
The next day, they dumped the body parts in two fresh burial plots in nearby Ruru Lawn Cemetery and Memorial Cemetery.
Organs were buried in the backyard while clothing, towels, tarpaulins and the jigsaw were burnt, the court heard.
Under cross examination by defence counsel Craig Ruane, Vaux-Phillips accepted that Gosnell's attack was "an assault that went too far".
She told police in interviews that Gosnell had been trying to knock Hayden out.
He never said he wanted to kill him, she said.
Asked today if she agreed that Gosnell never meant to kill Hayden, she replied: "I don't know."
When pressed, she said: "He could've stopped. So that means, by the end (of the assault), he did want to kill Hayden."
She admitted that Gosnell was "panicky" and in some shock when they realised Hayden was dead.
Gosnell and Vaux-Phillips then tried to cover their tracks.
After dumping the body, Vaux-Phillips posted a message on Hayden's Facebook page asking if he got home okay.
Vaux-Phillips told how she and Gosnell fled to Dunedin after disposing of the body.
A warrant was out for her arrest and she wanted to go.
They caught a bus and stayed roughly two weeks before returning to Christchurch.
Asked by Mr Hawes if she and Gosnell had discussed what they would say if questioned over Hayden's disappearance, she said they had.
"He (Gosnell) said to say Hayden had come round that night. He'd been beaten up and was gone in the morning when we woke up."
Mr Ruane told the court that the pair stayed together until Gosnell was arrested.
Under questioning by Mr Ruane, Vaux-Phillips admitted she had a tattoo of Gosnell's name on her upper arm, and said it was done in November 2011, some three months after Hayden died.
"What has that got to do with this, though?" she asked.
The trial, before Justice Lester Chisholm and a jury of six men and six women, continues.
- APNZ