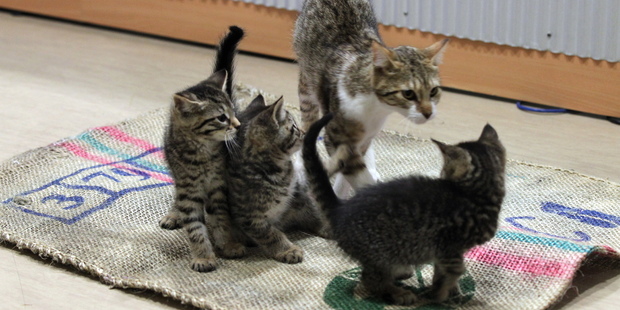 Stories making headlines across New Zealand at noon include the Napier SPCA bursting at the seams with more than 50 felines, a family has an agonising wait for an ambulance and a winning garden exhibit continues to be a target for vandals.
Hawke's Bay SPCA is hopeful cat lovers will adopt dozens of remaining furballs left over from "kitten season".
The grandfather of a toddler who faces the possibility of losing his fingertips as a result of serious burns said it felt like forever waiting for an ambulance to come to Edgecumbe.
New Brighton residents are at their wits end after vandals keep destroying an award-winning garden.
Tauranga musician Tiki Taane is about to perform for his most demanding audience yet - his son's daycare centre.
A grass-roots protest against the building of the Rotorua Eastern Arterial is gaining momentum with hundreds of people taking to the internet to voice their opposition.
A mother of two suffering a debilitating brain cyst is on a quest to raise $90,000 so a top Sydney-based neurosurgeon can operate on her.
Take a look at this year's winning Home of the Year, complete with secret doors.
Urgent slumps in the rock retaining wall of the Patea moles have cost the South Taranaki District Council $38,000 to repair.
More stories making headlines today:
Mural to spread message from the heart
Farm opens gate to public
Safer crossing urged, but not all in favour
Grounded yacht demolished
Significant rain on way
-nzherald.co.nz