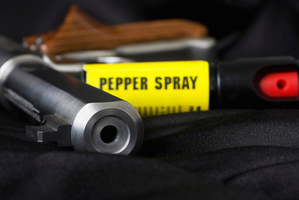 A man accused of using his girlfriend and her one-year-old son as human shields against police pepper spray has been granted interim name suppression.
The 22-year-old Waipawa man appeared in Hastings District Court today following his arrest last night. Judge Bridget Mackintosh granted interim name suppression and also interim suppression of the charges he faces.
Lawyer Amit Malik said his client denied the allegation he used the toddler and girlfriend as human shields.
"That charge is denied by this defendant and publication of his name... would cause him and his family significant hardship at this stage," he told the court.
Police did not oppose the suppression.
The man was remanded in custody and will reappear in two weeks.
He allegedly pulled the woman and child in front of him as police pepper-sprayed him during an arrest at a house in Waipawa yesterday evening.
Police said the pair took the full force of the spray.
He then allegedly barricaded himself, the woman and child in the lounge of the house, but a short time later escaped through a window. He was Tasered and caught by police as he tried to flee the property.
Police said a woman and child were treated at the scene by police and ambulance staff. They were then taken to Hawke's Bay Hospital for assessment and were later discharged.
For more articles from this region, go to Hawkes Bay Today