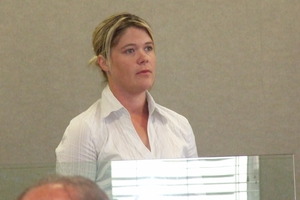 A disgraced former postie who stole more than 21,000 items of mail from Queenstown residents failed to fulfil her "sacrosanct" duty of delivering private correspondence, a judge says.
Philippa Lynette Lindsay was jailed for 17 months when she was sentenced in the Queenstown District Court yesterday.
She had earlier pleaded guilty to a representative charge of theft by a person in a special relationship between September 2010 and November 2012.
Lindsay, 32, read a letter of apology to New Zealand Post, affected residents and the wider Queenstown community before she was sentenced by Judge Kevin Phillips.
"I am not a malicious person and it was never my intention of hurting anyone," she said. "I hope that over time you will be able to forgive me, but I will understand if you don't.
"If I could take back what I have done I would do it in a heartbeat but unfortunately I can't. I am ready to accept my penalty."
The stolen mail was found hidden at Lindsay's home in Queenstown, a storage unit in Arrowtown and a car park at Coronet Peak. More than 1500 items were opened.
Defence lawyer Phena Byrne said her client's offending - which began as soon as she started working as a postie - was prompted by issues including alcohol abuse, being in a car crash and being bitten by a dog during her delivery round.
"It seems she quickly found herself out of her depth with her job," Ms Byrne said.
Lindsay made a "bizarre attempt" to conceal her wrongdoing by trying to open some of the mail, shred the contents and recycle the envelopes, Ms Byrne added.
"It is not a case of being motivated by greed, but the inability to face up to her responsibilities."
Lindsay denied any wrongdoing when NZ Post conducted an internal inquiry in November last year.
Judge Phillips rejected Ms Byrne's argument for a sentence of home detention, saying Lindsay's offending resulted in widespread harm across the community and NZ Post.
"I find that you rejected your employer's faith in you right from the outset and it just got worse and worse," Judge Phillips told Lindsay. "You did not stop at all and even when the game was up you continued to deny it."
He described the action of delivering a person's private mail as being "sacrosanct".
NZ Post spent $48,000 sorting and returning the stolen mail to residents. Only 100 unaddressed items remain at Queenstown Police Station.
Judge Phillips ordered Lindsay to pay $30,000 in reparation to NZ Post and $354 in reparation to affected residents.
NZ Post postal delivery general manager Toby Beaglehole said Lindsay had done a grave disservice to the thousands of hard-working and dedicated posties who were the backbone of the postal service.
"Lessons learned from Queenstown have already been applied elsewhere ..."
-Mountain Scene