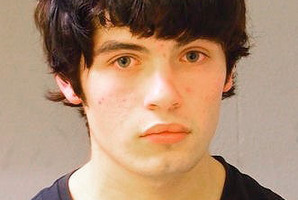 EXPLICIT CONTENT WARNING. Teenager Hayden Miles was brutally bashed to death before being sawn into 12 pieces and dumped in two Christchurch graveyards, a court heard today.
The grisly details emerged on the opening day of the High Court trial of Gavin John Gosnell, 28, who denies murdering 15-year-old Hayden on August 22, 2011.
Gosnell admits his savage and prolonged beating led to the schoolboy's death, but his defence team argues he should be convicted of manslaughter, not murder, because he did not intend for Hayden to die.
Hayden was reported missing after going to see his friend Nicollette Vaux Phillips at the Linwood house she shared with Gosnell. His remains were found after a four-month missing persons inquiry.
Today, Vaux-Phillips, a 19-year-old mum-of-one, sobbed as she recounted what happened to Hayden, who she had known for a year.
She said she invited her young pal round for drinks. When they ran out of bourbon, they decided to steal some from a nearby supermarket.
But while Hayden was stealing a cask of wine, Gosnell bumped into a friend and the pair plotted to take the younger man's iPod.
While walking home, Hayden was jumped from behind and his iPod, cellphone and the wine were stolen, Crown prosecutor Barnaby Hawes said.
Upset, Hayden used a stranger's cellphone to ring his mum and tell her he'd been robbed, before returning to the flat.
Gosnell said he "shouldn't have come back" and told him to leave, Vaux-Phillips said.
He started his attack on Hayden after the teen riled him by saying Vaux-Phillips was using him and didn't like him.
Gosnell repeatedly punched and kicked Hayden's head and body, saying he "deserved it", Vaux-Phillips said.
Hayden tried to get away but Gosnell only punched him harder.
Gosnell made him clean himself up three or four times before laying into him again.
Hayden begged for Gosnell to stop and for his female friend to help him.
The attack only ceased when an unconscious Hayden was "breathing funny", like he was running out of air, Vaux-Phillips said.
After showering him, Gosnell laid Hayden naked on the couch and went to bed with his girlfriend.
In the morning, Vaux-Phillips checked Hayden for a pulse and couldn't find one.
"He was dead," she told the court. "I told Gavin he was dead ... he just carried on walking outside."
Gosnell laid Hayden on the floor and turned the radio on, she said.
He proceeded to cut up the dead teenager - first, with a knife, and then with a portable bandsaw.
She witnessed the start of the dismembering before returning to her bedroom.
Gosnell laughed as he brought through body parts to show her, she said.
Vaux-Phillips - who was last year sentenced to 12 months of home detention after admitting a charge of being an accessory after the fact to culpable homicide - was then told to clean up the bloodied mess.
Gosnell threatened to "do the same thing" to her if she refused.
The next day, they dumped the body parts in two fresh burial plots in nearby Ruru Lawn Cemetery and Memorial Cemetery.
Organs were buried in the backyard while clothing, towels, tarpaulins and the jigsaw were burnt, the court heard.
Gosnell and Vaux-Phillips then tried to cover their tracks. After dumping the body, Vaux-Phillips posted a message on Hayden's Facebook page asking if he got home okay.
They were arrested in December.
The trial, before Justice Lester Chisholm and a jury of six men and six women, continues tomorrow.
- APNZ