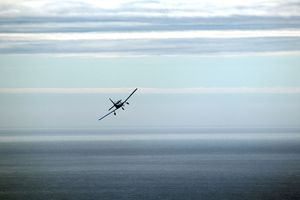 A student pilot was lucky to walk away from an emergency landing on an East Cape beach.
The pilot's plane flipped over after touching down on soft sand as the drama unfolded alongside the East Cape Road on Saturday.
The 22-year-old from the flying academy run by Canterbury Aero Club was on a flight from Taupo to Napier when he struck bad weather.
Police said the pilot decided to fly around the weather along the Bay of Plenty coast and around East Cape.
"When he got to the Cape at 3.15pm, he encountered another weather front. As he was flying east of Te Araroa, he struck a severe down-draught and lost control of the Piper Tomahawk aircraft," police said.
He decided to put the plane down on a beach about 15 kilometres east of Te Araroa.
"But shortly after he landed, the aircraft's wheels hit soft sand and it flipped, ending upside down," police said.
The pilot got out of the plane and walked a kilometre along the beach to a small motor camp on the East Cape Road, to get help.
Farmer Len Walker, who also runs the camp, said one of his campers reported hearing a noise and a little later the pilot turned up.
"He was shaken but not injured in the crash," Mr Walker said.
The pilot was checked over by a Te Araroa doctor as a precaution.
"The plane had crashed near the tide line, so another man and I used our vehicles to tow it up above the high tide mark," Mr Walker said.
"It was not too badly damaged in the crash. The pilot had to break one of the windows to get out," he said.
"He got the plane down OK but then it hit some soft sand, came to a sudden stop and the tail went over the top."
Chief flying instructor from Canterbury Aero Club Jay Peters confirmed this morning the aircraft was one of theirs.
"He's a good pilot, with over 100 hours of flying time, and it was a good decision to land when he did," Mr Peters said.
"He showed good airmanship. It was just unlucky he struck the soft sand."
Mr Peters said an aircraft engineer from Gisborne was heading to the accident scene today to assess the recovery of the plane.
It remains upside down on the beach.
The proprietor of Hicks Bay Motel and Lodge, John Campbell, was one of those to visit the accident scene on Sunday.
"He was so lucky to walk away from it."
Mr Campbell is a helicopter pilot and regularly flies in the area.
"That piece of coastline is renowned for its sudden down-draughts, even in good weather.
"It's an area I tend to avoid when flying, for that reason.
"I saw that weather front come through and the flying conditions would have been very tough indeed," Mr Campbell said.