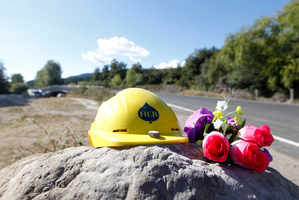 The mystery Jeep which was parked near where roadworker George Taiaroa was shot dead almost three weeks ago may have been driven towards Taranaki, police say.
The 67-year-old was shot and killed as he operated a stop-go sign on Tram Rd in Atiamuri, south Waikato, on March 19.
Since then, police have been seeking sightings of a blue Jeep Cherokee which was seen alongside Mr Taiaroa as he was shot.
The vehicle was then seen being driven erratically and at speed along Tirohanga Rd and through the Pureora Forest.
Police previously said the Jeep's last confirmed location was by the Department of Conservation office on Barryville Rd, but today they revealed the vehicle was believed to have continued on from there towards Taumarunui and Taranaki.
Detective Inspector Tim Anderson said police had been heartened by the ongoing support of the community.
"This investigation is a great example of how snippets of seemingly innocuous information from people quite far removed from our scene can help move us forward.
"As we continue to piece it all together we now believe that the Jeep continued to travel west to southwest, and we are particularly keen to hear from people in and around the areas of Benneydale, Taranaki and Taumarunui."
Mr Anderson urged people to cast their minds back to March 19 and the days that followed.
He said anyone who could recall anything that might help police, no matter how insignificant, should get in touch.
"Community information is incredibly valuable. It has already provided us with a number of positive lines of inquiry and I believe there is more information out there which will help to complete the picture."
A team of 30 to 50 police officers is involved in the investigation.
A motive for the shooting has not yet been established.
- APNZ