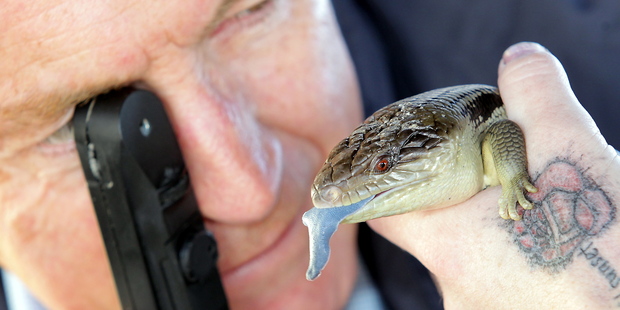 Stories making headlines across New Zealand at noon include pets receiving eye exams, Esk River bridge becomes a carcass dumping ground and a bomb-sniffing puppy.
A queue of cats, dogs, rabbits, ponies and a lizard - with their owners - waited in central Wanganui to have their eyes checked on Saturday.
Hawke's Bay's Esk River bridge and banks have become what frustrated authorities are calling a "disgusting dumping place" with the latest disturbing find being an adult stag that had simply been shot and dumped.
A puppy rescued by a Whangarei SPCA worker is now saving lives by sniffing out explosives in some of the world's war-torn danger spots.
Wairarapa SPCA is in the midst of a kitten cat-aclysm and is appealing for help from pet lovers.
Sci-fi fans are in for a treat as four of the actors who brought Doctor Who to life head to Auckland this weekend
Todd Pakenham helped build the raised vegetable plots that make up the Mount Community Garden in the May St Reserve and now he is renting one of the 36 plots available there.
The winner of the indulge Bay Model Contest has been named the face of a new Auckland brand advertising campaign.
New Zealand's most eligible bachelor is from Rotorua.
More stories making headlines today:
Richard O'Brien's white wedding
Kevin Page: My wife has Briscoesitis
Rotorua students graduate from Cactus course
Spy cameras may help to fight tipping
Racy wartime tale plays out on Hamilton stage
Crutch charges loom for patients

-nzherald.co.nz